Keeping Your Backyard Home Office Cozy for the Cooler Months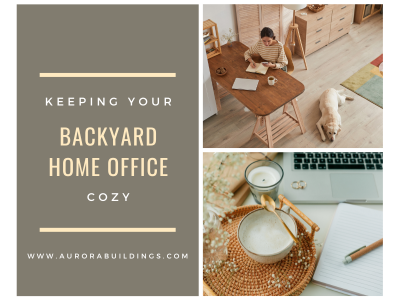 In recent years, the concept of working remotely has gained significant popularity, and many individuals are now looking for ways to create a comfortable and productive home office space. One innovative solution that has emerged is the conversion of a backyard shed into a home office.
While this can be a fantastic idea in terms of separating work from home life, it poses a unique challenge when the colder months roll around. To ensure your home office in a backyard shed remains comfortable and inviting during the winter, there are several key considerations to keep in mind.
First of all, make sure you have chosen a high quality shed that can handle the customization tips below. Our garden sheds and mini cabins are perfect for this, so contact us any time to learn more about ordering one of your own.
Insulation is Key
The first and most crucial step in preparing your backyard shed for the colder months is ensuring proper insulation. Without adequate insulation, maintaining a comfortable temperature in your home office becomes an uphill battle. Poor insulation leads to heat loss, making it harder and more expensive to keep the space warm.
Focus on insulating the walls, ceiling, and floor of your shed. Common insulation materials include fiberglass batts, foam board, or spray foam insulation. We even offer upgraded insulation that can be installed when the shed is set up, so you don't have to worry about a DIY project after the fact. It's also important to seal any gaps or cracks to prevent drafts. You might also consider installing insulated doors and windows to complete the high quality insulation.
Choosing a Heat Source
After you have made sure the shed is adequately insulated, you can decide on a heat source to keep the space comfortable and customize the temperature inside. Here are some of the best options:
Electric space heaters are easy to install and relatively inexpensive. They provide instant heat and come in various sizes and designs. Look for an energy-efficient model with safety features like tip-over protection.
If you enjoy the rustic charm of a wood stove, it can be a great option for heating your shed office. However, it requires a chimney or flue, regular maintenance, and a supply of firewood, so consider whether this maintenance is something you are ready to take on.
Mini-split heat pumps are energy-efficient and provide both heating and cooling. They are ductless systems, making installation relatively straightforward.
Radiant heat flooring is a luxurious option that heats the floor, providing consistent warmth throughout the building. It's usually installed during the construction phase of the shed, so it may not be practical for a retrofit, but if you know you want to install it we can work with your plans as we design your shed.
Don't Forget about Ventilation
Proper ventilation is essential to maintain good air quality and prevent moisture buildup, which can lead to mold and mildew issues. While you want to seal your shed to keep the cold out, you also need to allow for controlled ventilation. Installing vents with adjustable louvers allows you to regulate airflow as needed.
As we design your shed together, let's talk about ventilation upgrades that might be the best fit for you based on what you will have in your office, the heat source you choose, and your local climate.
Make It Cozy
Creating a warm and inviting interior design can significantly enhance the comfort of your backyard shed office during the colder months. Here are some design tips to help you love your office all year long:
Invest in comfortable office furniture, including a cozy chair or sofa where you can relax during breaks. Consider adding soft area rugs for added warmth.
Adequate lighting is crucial for productivity. Natural light is essential to avoid seasonal depression or a gloomy atmosphere in the office. You can also use a combination of overhead lighting, task lighting, and ambient lighting to create a well-lit workspace.
Remember to add personal touches like artwork, plants, and decorative elements to make the space feel more inviting and inspiring.
Ready to begin designing a backyard home office that will work for you all year long in any climate? Contact us any time.