How Adding a Shed to Your Property Can Help You Avoid Moving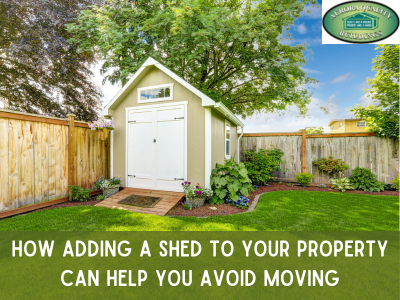 If you are finding that your current home is not meeting your needs, moving is likely on your mind. There are many reasons you might feel you have outgrown your home, like welcoming new children into the family, needing home office space thanks for a lifestyle change, or a desire to create more entertaining space.
Whatever the reason you are outgrowing your home, you may be like many Americans who don't want to move. Either because of the current housing market conditions or because you love your location and are attached to your current home, you might be in search of an alternative to moving.
One of the most efficient and affordable solutions to this dilemma lies in adding a structure to your backyard. Something like a detached garage, a high quality garden shed, or a tiny home can make your home more functional as your needs change while allowing you to avoid a move altogether.
Reasons Adding a Shed May Help You Avoid Moving
Free Up Storage Space
Storage is a primary concern for many homeowners, especially over time as more belongings naturally accumulate. Maybe you are a household that is adding children and needs to store all the clothing, toys, and gear or maybe you have started to run a small business and simply cannot store everything in the home in an organized way. It might also be as simple as feeling that your current storage situation is insufficient.
A high quality garden shed can be added to your backyard to allow you to create an organized storage system for things that don't need to be in the house at all times. This might mean storing your emergency food and supplies, holiday decor, off-season clothing, or business supplies. A shed can be used to free up valuable space in the house without the need to get a storage unit in town.
Create a Playhouse
If you are a young family, or have young children visiting your home often, adding a playhouse to the backyard can be a solution that is both fun and functional. If you currently have playroom or toy area in the house, this is a great way to open up that space to be used in another way.
Even being able to move toys from your child's bedroom to the backyard playhouse can make your home more functional. If you are working to create more space in the house, you may find that moving the toys out of the house allows you to comfortably fit multiple children in one bedroom or open up a new living area.
Design a Home Office
If you are working from home even part of the time, having a dedicated office space can make a major difference for your stress level, efficiency, and productivity. Many homes do not have a room that can be a dedicated office, so people find themselves sharing space with the rest of the household.
Our garden sheds, detached garages, and mini cabins can all be designed to include your ideal home office space. Combining the benefits of working from home with the privacy and focus provided by an office outside the home, this is a best of both worlds solution for many remote workers.
Build a Guest House
Do you wish you had guest space to regularly host family members who have moved out of town? Maybe you have a guest room but it needs to become a child's bedroom or be used in another way. You may also be finding that you wish your guest space provided more privacy when people come to stay.
Adding a guest house to the backyard is a great solution to any of these dilemmas. Whether you opt to create just a cozy bedroom space, or a full tiny home, our buildings can be a comfortable guest house just steps from your back door.
Welcome an Adult Family Member
Many of our customers choose a mini cabin that can become a full-time home for an adult relative, like a college student, disabled sibling, or aging parent. This set-up can allow you to provide support while your family member maintains independence and you all have the privacy you want.
Contact us any time to learn more about designing a backyard building that will help you continue to love your home. We are able to help you customize a plan to ideally suit your budget, preferences, and needs.