10 Businesses You Can Run from Your Backyard Shed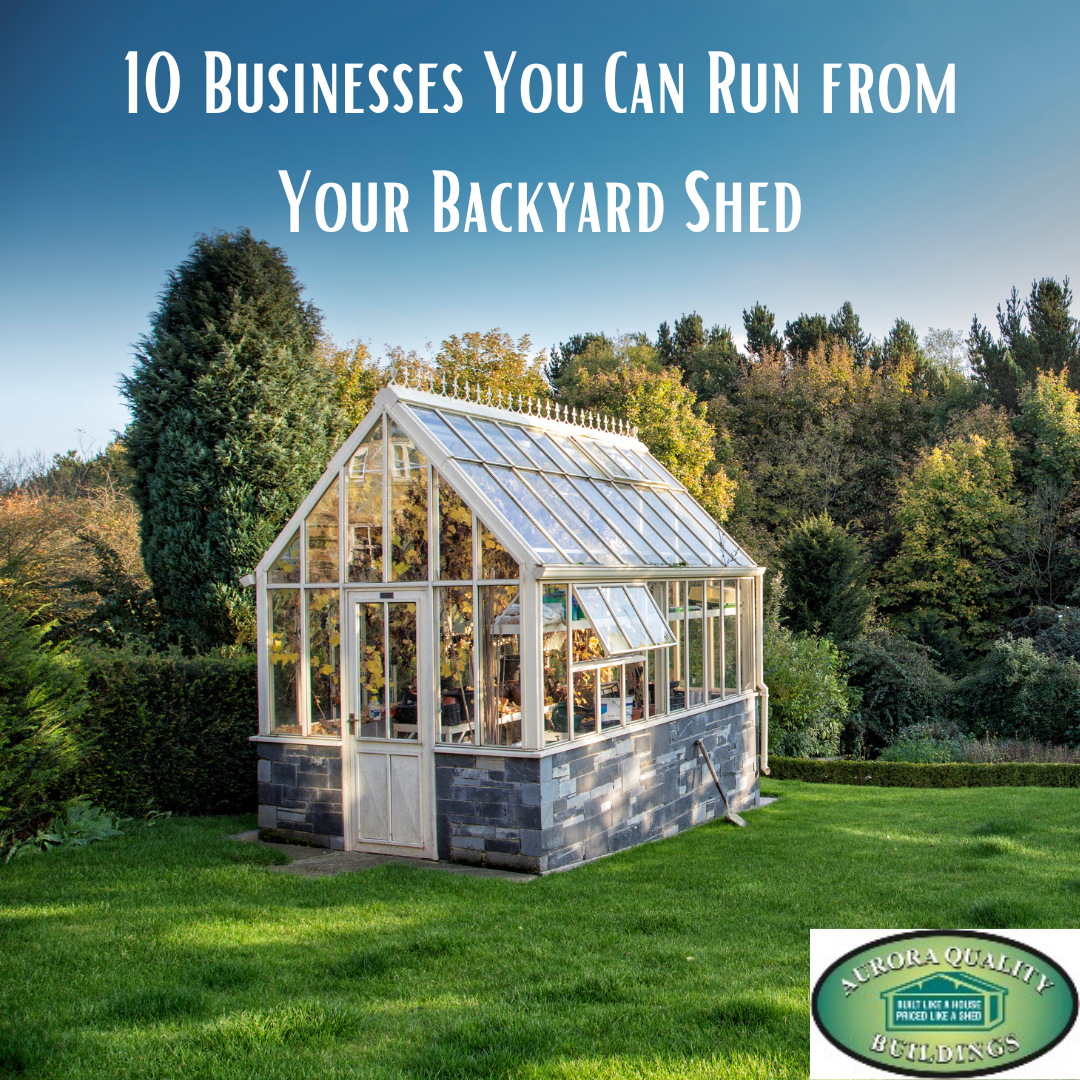 Starting a business from your backyard shed can be a creative and cost-effective way to pursue your entrepreneurial dreams. Our high quality garden sheds are more than just a little place to store your tools; you can customize a plan to design a structure that supports your goals, upgrading it until it is exactly what you need to start that business you have been dreaming of.
Contact us any time to learn more about designing a shed for your business, or get some inspiration with these 10 ideas for businesses you can run from a backyard shed.
1. Woodworking shop
If you have woodworking skills and enjoy crafting items from wood, you can set up a small woodworking shop in your shed. Create and sell custom furniture, home decor items, or even offer woodworking classes to further monetize your expertise.
2. Art studio
Convert your shed into an art studio where you can create and sell your artwork. Offer art lessons or workshops, sell paintings, sculptures, or other art pieces online or through local galleries. Make sure to upgrade your shed design with extra windows to allow in plenty of natural light.
3. Home bakery
If you are the kind of person that always gets compliments on your baking, consider setting up a commercial-grade kitchen in your shed and start a home-based bakery. Offer fresh baked goods like bread, cakes, pastries, cookies, or specialty treats. You can sell your products at local markets, through online platforms, or establish partnerships with cafes or restaurants.
4. Greenhouse
Monetize your green thumb by transforming a shed into a greenhouse where you can grow and sell plants, flowers, herbs, or vegetable seedlings. You can sell directly to customers, local garden centers, or even offer landscaping services.
5. Fitness studio
Transform your shed into a customized fitness studio and get the relevant certifications for your favorite style of workout. Offer personalized training, yoga classes, or small group fitness sessions. You can market your services as boutique, high end services that are perfectly tailored to your ideal client.
6. Handmade crafts
Use your shed as a workshop for creating handmade crafts such as candles, soaps, jewelry, or pottery. Sell your products through online marketplaces, local craft fairs, or create your own online store.
7. Pet grooming
If you have experience and knowledge in pet grooming, convert your shed into a pet grooming salon. Provide grooming services for dogs, cats, or other pets. Consider offering additional services like pet sitting or selling pet-related products. A shed is an ideal space for this, fully customizable to be pet-friendly and professional at the same time.
8. Home office
Many businesses don't require a specific location, but do require a place where you can focus on your work. A backyard shed is the ideal space for a home office, set apart from your main home to keep you in the zone while still eliminating the need for a commute. Whether you work from home or want to start your own business, the shed turned home office is a popular solution.
9. Personalized products
Utilize your shed as a workshop for creating personalized products such as engraved items, custom clothing or accessories, or personalized home decor. It's easy to get set up to sell your products online, or choose to sell at local markets or through establishing partnerships with retailers.
10. Upcycling
Transform your shed into a workshop for upcycling or refurbishing furniture, antiques, or vintage items. Offer restored pieces for sale or provide custom restoration services. You can keep the mess and potential hazards away from your home while keeping them near enough to work on whenever you can. Make sure to upgrade your shed with added ventilation if you plan to do a lot of painting, refinishing, or working with chemicals.
Ready to learn more about ordering a garden shed to become your headquarters? Contact us an time.