How to Know if a Tiny Home is Right for You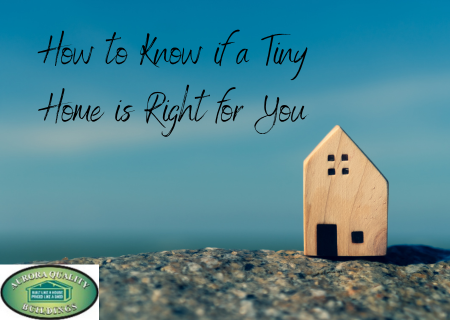 Tiny homes have become an increasingly popular housing option for people looking to downsize, simplify their lives, and reduce their environmental footprint. Whether you are planning to live in a tiny home temporarily or for the foreseeable future, it will be a significant lifestyle change that requires some creativity and flexibility.
Our mini cabins and fully customizable so that you can design a tiny home that is the right fit for your budget, preferences, and climate. Contact us any time to learn more about designing a tiny home that will be just right for you. If you are on the fence about whether a tiny home will be the right choice for you, consider these factors to help you make a decision.
Is a Tiny Home Right for Me?
Short Term versus Long Term
There are plenty of reasons people might consider living in a tiny home. Perhaps you want to live in one long term to reduce your environmental impact or lower you expenses to live the lifestyle you want. You might also choose to build a tiny home on your property as a short term home while you are building your dream home, and then turn it into a guest house when the larger house is complete.
Before designing your tiny home, make clear goals about the purpose and timeline of it so you can design it with your future plans in mind.
Living Simply
Living in a tiny home encourages a simpler lifestyle, as it often involves decluttering and prioritizing what's essential. If you find joy in owning fewer possessions and value experiences over material possessions, a tiny home may align with your values. However, if you are sentimentally attached to a lot of belongings or have difficulty letting go of items, the transition to tiny home living may be challenging.
Those who don't want to go fully minimalistic but want to live in a tiny home for a temporary period may find that paring down to necessities and packing other belongings into a storage unit will solve the problem.
Environmental Impact
If you are searching for a way to lower your impact on the planet, living in a tiny home can be a great way to do just that. Many individuals opt for tiny homes as an eco-friendly housing choice. Tiny homes typically consume fewer resources and produce less waste than conventional houses. If living sustainably is a priority for you and you are willing to adopt eco-conscious habits, a tiny home could be an excellent fit.
Financial Considerations
A tiny home is nearly always the more affordable option when compared to a house. Everything from the initial expense to decorating to maintaining it will cost less. You may also find that the simpler lifestyle it supports keeps you accountable to less miscellaneous spending. Living in a tiny home, even just for a short term period, can change the way you think about your purchases and help you settle into better spending habits.
Hospitality
One of the main considerations someone should make about living in a tiny home is the way it will change your entertaining and hospitality. If you like having a group of people over, your tiny home may not accommodate it the way you are used to. Instead, you may want to make some changes to design an entertaining space that is outside the tiny home.
You can prepare the food and offer a restroom inside, while having a more spacious outdoor living space where you can invite friends to join you around an outdoor dining table or fire pit. Consider adding string lights, speakers, and comfortable seating to make it just as enjoyable to spend time in your outdoor living room as it is inside.
Ready to learn more about ordering your custom tiny home? Contact us any time.