Moving into a Tiny Home with a Large Dog
Downsizing to a tiny home could be the lifestyle adjustment your family needs. What can you do to make your large furry family member continue to feel comfortable and at home in a much smaller space?
With the right preparation, tiny home living can work out really well for a large breed dog. Here are some things you can do to help a large dog feel at home in a tiny house so that everyone loves the new change.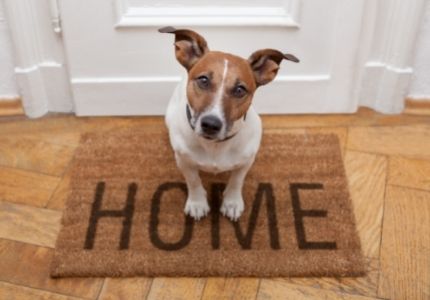 Trade Indoor Space for More Outdoor Play
There are so many perks and benefits to moving into tiny home for humans, but one perk that will benefit both the humans in the home and the dog(s), is more time outdoors. The best tiny homes for large dog breeds are those that are on large lots of land or are near to/have easy access to public outdoor spaces.
When your dog or dogs have more access to wide-open outdoor spaces they will be able to enjoy being a dog. Large dogs love to exercise, run, play, explore, etc. When a dog has more frequent access to play they just may be much happier than they were living in a traditional-sized home.
Keeping Furry Family Members Safe Outside
With much more time outside there will be some steps you will want to take to keep your furry loved ones safe and healthy. Prevent your dog from getting lost by providing them with specific advanced training that teaches them to come on command, not go past certain boundaries, etc.
Consider investing in good fencing or an invisible fence and making sure your pet is microchipped if you plan to let them outside without you.
Make sure to keep your K9 healthy by applying for flea and tick medicine in areas where these things are of concern and to check them on a regular basis after coming in from long periods of play outside on their own.
Making the Indoors More Comfortable
You can't spend all of your time outside, you will need to return home at some point. Here are some things you can do to make the inside of a tiny home more livable for a big dog.
Routine
This is especially essential during the transition of moving from home to home. Keeping a set routine for daily schedule/activities is very important to help a dog feel secure and safe. For example keeping the same time of day for eating, going outside, taking a walk, etc. will help your pup feel more at home in a new and smaller space.
Tiny Home Floor Plan
Having a floor plan in your tiny home that is more dog friendly will also help all members of the home to feel more comfortable when spending time inside. Choose a floor plan that allows for more floorspace in the main living area, has plenty of windows that the dog can see out of, and maybe has just enough room for a kennel when you need to leave home without your pup for a little bit. You may find that you dog likes to hang out in the kennel even when you are at home as dogs are natural cave animals and like to have a comforting place to themselves to relax sometimes.
With the right planning and dedication to more outdoor play having a large dog in a tiny home can work out just as well or better than living in a traditional home.
For more information on tiny homes in Snohomish County please contact us at any time.
More on Cabins