Mini Tiny Cabins have Become Popular Vacation Properties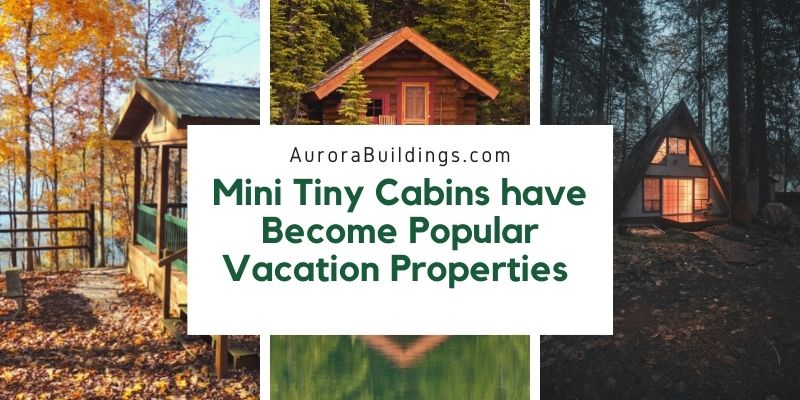 Mini cabins have seen a big surge in demand and popularity from both those looking to own a vacation property and those looking to rent them. The idea of having no Wi-Fi and spotty cell service has held quite the allure over the last year and a half or so with the rise in the number of zoom calls and online activity since the pandemic began.
One company that has gotten into the mini-vacation cabin concept has grown significantly in the past six years, especially over the last year. Getaway started out just outside of Boston and now they own 581 custom-built mini cabins sprinkled across 15 locations in the country. 50 of their mini cabins are only about 140 to 200 ft.² in size and they welcome guests to enjoy some quiet relaxation in large sprawling open land.
One thing that draws many customers to get away to their many mini cabins is that they offer poor connectivity, a driving time within two hours or less from large metro areas, and the ability to safely vacation on your own terms with plenty of distance and quiet all around. Getaway is planning to build a new set of mini cabins just an hour north of Seattle this summer.
In the past year, Getaway has increased its business by 150% as compared to the year previous. In April 2020 just after pandemic lockdowns took place all across the country their business increased by 250%. Over the past year, all of their mini cabins have been almost 100% occupied during the entire time. To help get a better picture of how successful this is, US hotels have only seen their highest occupancy levels of about 60% since April 2020.
Getaway's main focus has always been to have a totally social distance and relaxing get away from everything around you even before the pandemic began. These mini cabins are essentially a little room on wheels with huge windows to enjoy the beauty of the outdoors all around. It makes you feel like you are sleeping outside amongst the trees while being completely comfortable inside a warm mini-cabin. The interiors are simple and not fussy keeping with a relaxing minimalistic feel that gives the guest the opportunity to just relax and go with the flow.
Not only is a more simplistic and completely secluded and distant surrounding and cabin part of the allure, but the ability to get out and enjoy activities all around you while seeing very few people is increasingly popular and sought after right now for those who want to take a vacation currently.
While vaccines and business opening has brought back some vacationers to traditional vacation spots there is still much popularity and demand among vacationers to find a place that is disconnected and distant and quiet and relaxing.
For more information on our mini cabins in the Puget Sound area please contact us at any time or come by and see us in person and look at products for yourself at our Smokey Point location.
More on Cabins