Stocking Your Tiny Home Hunting Cabin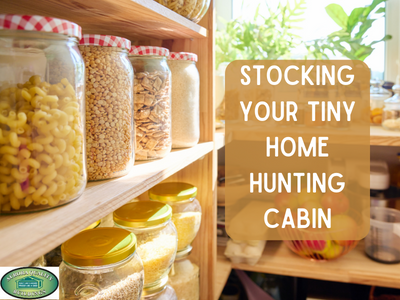 A hunting cabin nestled in the wilderness provides the perfect escape for outdoor enthusiasts seeking a respite from the hustle and bustle of everyday life. Even if you don't have a large cabin in the woods, you can design a tiny home that is comfortable, functional, and well-stocked for the whole season. If you're considering one of our mini cabins as your hunting cabin retreat, contact us any time. We can customize the design to uniquely suit your plans for it, including upgraded insulation, radiant heat flooring, and more.
Whether it's far from home or just a short drive away, stocking your hunting cabin with the right essentials is key to ensuring a comfortable and enjoyable retreat. In this guide, we'll explore the essentials for stocking your hunting cabin, so you're well-prepared for your next adventure.
Furniture
Comfortable and functional furniture is essential for creating a cozy and inviting atmosphere in your hunting cabin. Even the most simple and rustic spaces can still be a comfortable place to relax after a day of hunting. Here are some furniture and furnishings to consider:
Beds and Mattresses: Invest in comfortable mattresses and bed frames for a good night's sleep. Bunk beds are space-efficient for accommodating multiple guests, so consider who you might be bringing with you and how to maximize the space.
Sofas and Seating: Provide ample seating with comfortable sofas, chairs, and recliners where you can relax after a day of hunting.
Dining Area: Set up a dining area with a table and chairs for meals, card games, and gatherings. Multi-Functional furniture can be a great way to create a dining area that doubles as living space.
Storage: Install cabinets, shelves, and dressers for storing clothing, gear, and supplies. Consider storage benches or ottomans for multi-purpose seating and storage. Custom storage that takes advantage of all space in the mini cabin, including vertical space, is a must.
Rugs and Carpets: Area rugs and carpets add warmth and help keep the cabin clean by trapping dirt from outdoor shoes.
Fireplace or Wood Stove: Consider adding a wood stove or fireplace to the cabin for that cozy, rustic atmosphere. Remember to prioritize safety with a good design and regular maintenance.
Kitchen and Dining
Even if you can make it just find on dehydrated meals, beef jerky, and other convenience food, you will enjoy your trip all the more with real food prepared in your cabin kitchen. Here's what you'll need to stock a well-equipped kitchen:
Cookware: Stock the kitchen with pots, pans, baking sheets, and cooking utensils for preparing meals.
Dishes and Cutlery: Plates, bowls, glasses, and silverware are necessary for dining. Don't forget sharp knives and cutting boards.
Appliances: Depending on the cabin's amenities, consider appliances like a stove, refrigerator, microwave, coffee maker, and toaster.
Cooking Basics: Keep a supply of spices, condiments, cooking oil, and other basic ingredients on hand. This will reduce what you need to pack every time you take a trip.
Food Storage: Use airtight containers and resealable bags for storing food items and leftovers.
Cleaning Supplies: Stock cleaning supplies such as dish soap, sponges, dishcloths, and trash bags.
Outdoor Grill: If your cabin has outdoor space, consider a grill for cooking barbecue or grilling freshly caught game.
Other Supplies
As you make your list of what to stock the cabin with, don't forget these other necessities and fun ideas:
Keep basic tools like hammers, screwdrivers, pliers, and wrenches for minor repairs and maintenance.
Keep a list of emergency contacts, including local authorities, nearby hospitals, and friends or family members, especially if you are located outside of cell service.
Prepare an emergency kit that includes first-aid supplies, a flashlight, batteries, and non-perishable food items.
Include board games, card decks, and other group activities for indoor entertainment.
Stock a selection of books, magazines, and puzzles for downtime entertainment.
Store extra blankets in case the temperature drops unexpectedly.
Keep weather-appropriate clothing, including waterproof jackets, boots, hats, and gloves.
Ready to get started on the design for your hunting cabin? Contact us any time.