Save Space in Your Tiny Home with These Design Ideas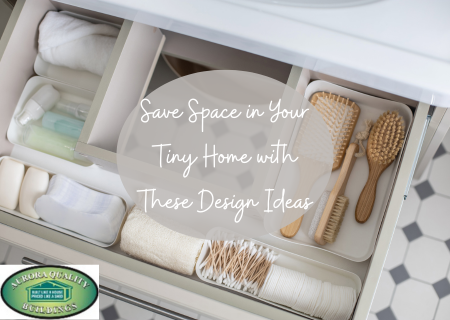 Our tiny homes are priced like a shed, but built like a house so you can enjoy quality craftsmanship that will last for years to come. Make the most of your investment by maximizing every square inch with innovative solutions. As you design, customize, and decorate your tiny home, consider these creative ways to save space while adding beauty and functionality to your home.
Sliding Doors
Choosing a sliding door option, like a pocket door or barn door, is a great way to save space while providing privacy. A door that slides instead of swinging open will allow you to place furniture or other items closer to the doorway because you do not need to account for the door's path. This will also help you avoid annoying situations like opening the door into someone else or being stuck until someone moves.
In addition to the functionality, barn doors and other sliding options can provide an architectural element that offers major design impact to the space. Finding ways to make big architectural statements in a small space can be a challenge, and a sliding door is a great way to do this.
Take Advantage of Corners
The corners in your home are opportunities to customize storage solutions. Don't let any corner in your tiny home go to waste! Corner shelving is perfect for books, candles, or toiletries. A corner is also a great space to hang hooks for jewelry or bags. If you have a corner in the kitchen, consider storing small items like spices and utensils.
Choose Multi-Functional Seating
No space should be wasted in a tiny home, and that includes seating. Wherever you install seating, make sure it also provides storage. Dining areas with benches can be the perfect place to add a large storage area in the kitchen, which is great for extra pantry space or household goods like toilet paper. In the living space, consider choose ottomans or couches that feature storage beneath the cushions, where you can store extra blankets and bedding.
Get Creative with Hinges
Look for ways you can make your surfaces able to be stored away. Desks, food prep space, and dining areas can all be hung on hinges so they can be folded flush against the wall when they are not in use. You can even paint or otherwise decorate the underside so that they double as decor when folded up.
Vertical Decorating Space
Because the footprint of the tiny home is so, well, tiny, you likely cannot afford to use much of the floor space for decor. Even something as simple as a house plant may take up too much valuable space.
Instead, use all your vertical space for decor. Consider statement wallpaper or a gallery wall that will add plenty of visual interest without taking up an inch of floor space. If you want to incorporate house plants into your tiny home, consider hanging plants instead of placing them on the floor or another surface.
To learn more about our mini cabins and how we can design one that ideally suits your needs, contact us any time. We are ready to help you customize the tiny home of your dreams!