3 Reasons Not to Purchase a Rent to Own Shed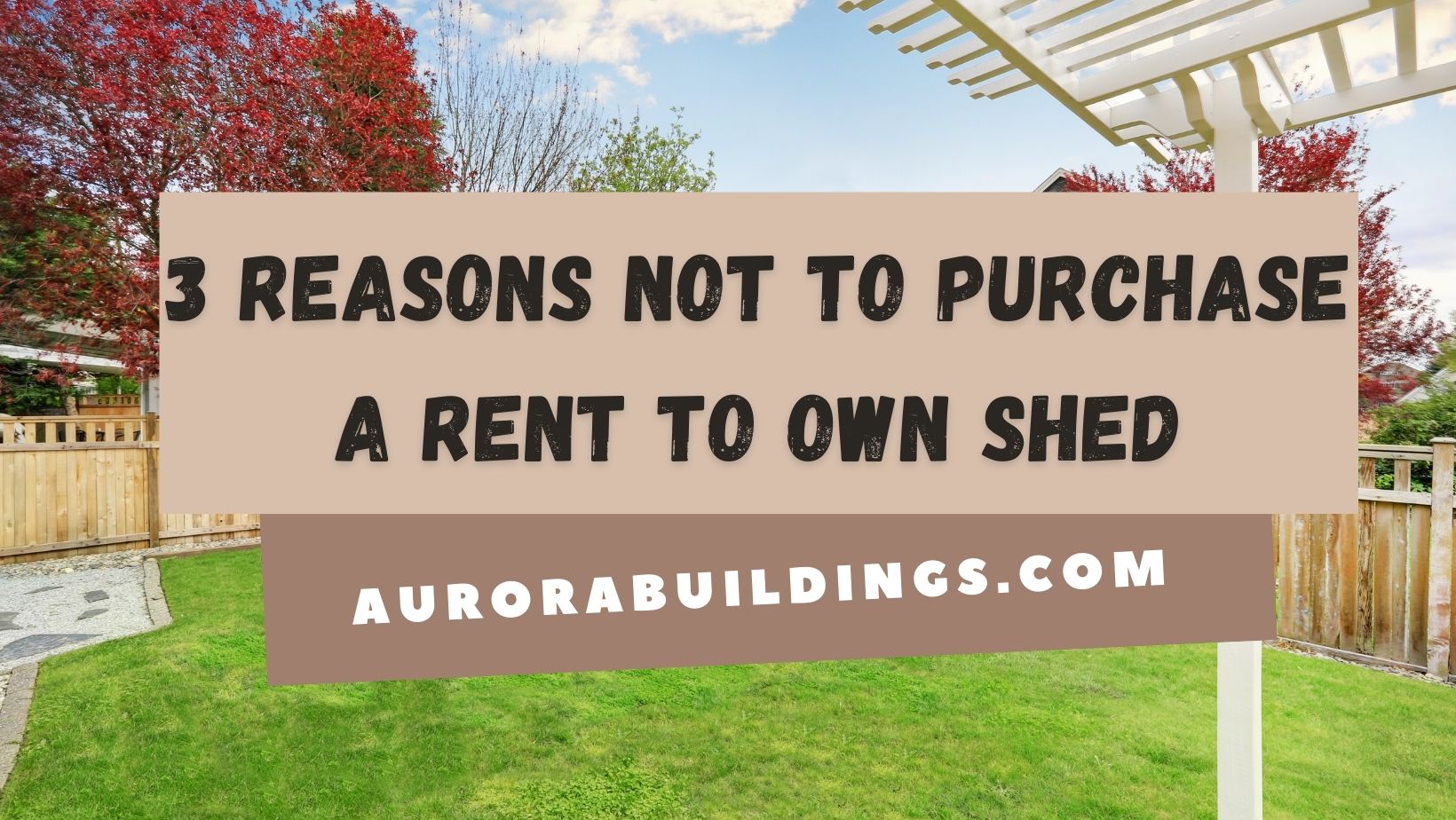 Rent to own is the process of a buyer making monthly payments to the shed maker with the intent to own the shed after an agreed-upon number of payments have been made. This may seem like a great idea if you do not have enough money right now to pay for the entire cost of a shed. But when you look at all of the fine details you will discover there are some good reasons not to go this route when it comes to purchasing a shed
Here are 3 Reasons Not to Purchase a Rent to Own Shed
The Overall Cost of the Shed
Using a rent-to-own plan to purchase a shed can increase the final cost of the shed by 25, 50, or even 100%. When purchasing a shed through a rent-to-own option you are not just buying the shed, you are paying for the leasing option, and paying a significant amount of interest.
A longer rental term can lower your monthly payment, but it will also mean that you will be paying more in interest and a higher overall total cost for the shed.
The Possibility of Having the Shed Taken Back
If you are unable to continue making your contracted payments, the shed company is within the right to take the shed back. It is always wise to make sure you can more than afford the payment for a rent-to-own shed. You want to be able to make the payments with no problem over the life of the shed so that you do not lose it and end up with a negative hit to your credit report as well.
Negative items on your credit report will impact much more than the purchase of your shed. It can impact other purchases you try to make through credit means, like the purchase of a car or a home. Negative items stay on your report for about 7 years.
Negative Contract Impacts
Make sure you are reading a rent-to-own shed contract word for word. You want to ensure that there is no prepayment penalty and if there is you will have no problem committing to the timeline you will be stuck into.
With a prepayment penalty, you are not allowed to pay off the entire balance of what is owed on the shed without having to pay an extra penalty fee for doing so. This will also impact any of your future plans for the property that the shed is on. For example: if you hope to move and leave the shed on the property for the next owner.
When Rent to Own Might be an Ok Option
In some cases, a rent-to-own shed may be a good alternative to purchasing a shed outright. This could include a situation where you are paying more to store your stuff in a storage unit with monthly fees. Or if you are only in need of the shed for a specific and temporary amount of time.
For more information on purchasing a custom quality shed in Snohomish County and surrounding areas please contact us any time or stop by and see our products in person.
More on Tiny Homes in the Pacific Northwest