Is It Possible to Make Money on Tiny Home Improvements?
Tiny Home Improvements – If you love to improve, redecorate, update, liven up, tweak, beautify, etc. your tiny home dwelling it could be possible to turn your beloved way to pass the time into a source of extra income. Why not make a little money on the side while you are doing something you love? You could make a favorite thing work for you in more than one way.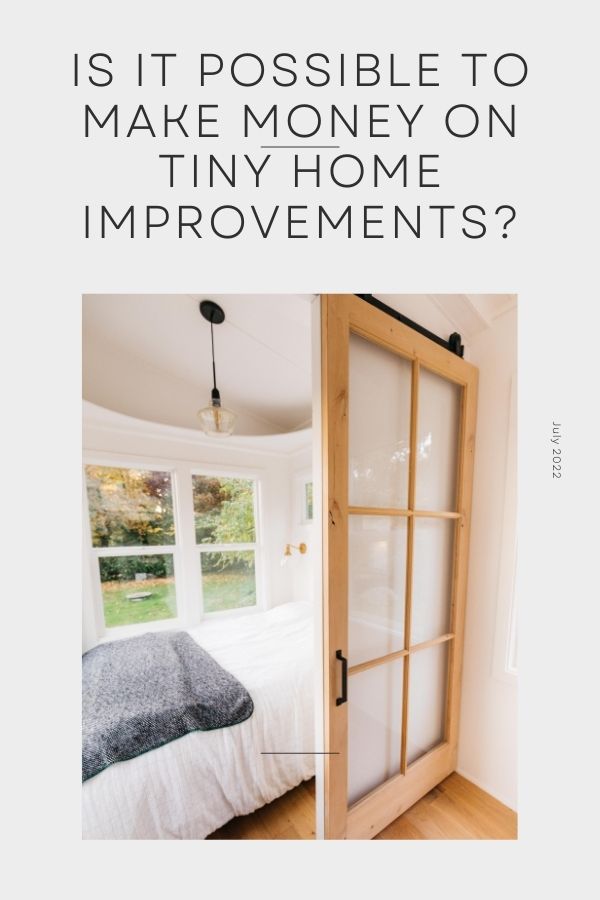 With the right approach and some dedication, it could be possible to share your projects with the world and turn it into a side hustle. Those who are truly dedicated could even turn it into a full-time job.
Here are some ways in which you could potentially make some money from your tiny home improvements projects
Start a Tiny Home Improvement Blog
Dedication to a blog could be a great way to bring in some extra cash. The trick to actually making money with a blog however is to attract enough followers and include some added space. You want to make sure you are including things that will draw the eye like plenty of photos and sharing things that homeowners are currently interested in.
There are some advertising companies that will pay you to post their ads on your blog website and give money for every view that the blog receives. This is why it is vital to make sure you are doing the work of directing traffic to your blogs. You could do so by sharing your posts to friends and family and asking them to share with others as well. The more you market and have your blog seen the higher your earnings.
Additionally, you could monetize your blog by adding an e-commerce shop. You could sell items from your website or partner with a brand and receive money every time someone makes a purchase by clicking a link you have shared. Just make sure that you are open and honest in communicating that you receive a small percentage for every purchase made through your link.
Short videos, share your projects on YouTube
YouTube has been around for a long time but has recently made a resurgence in popularity. Many people are turning to YouTube for several various different reasons one of them is to learn about products or how to do various different things.
YouTube pays content creators money for every view they receive. They also receive money when people viewing their videos take the time to watch commercials tucked into their videos. With this avenue, it can take some time to build up a steady number of viewers and make a good amount of money but it can be worth it with some effort.
Sell Your skills and services
There is only so much you could do around your own home, especially when you own tiny home. You could offer to do work for others for a small fee. There are some things to be mindful of when you do this. You want to make sure that you are offering quality work and be mindful that not everybody is going to be 100% happy. This is why you also want to set up a standard contract for your services to line out what customers can expect from you and what courtesy you expect from your customers.
If you are not into doing the work for other people you could also make a little money by holding workshops and teaching others how to do awesome projects themselves. You could even do this from the comfort of your own tiny home by creating online classes.
Social media influencer
People all over Instagram and TikTok are actually making money off of spending too much time on social media. Why not make social media work for you as well? You have skills and a hobby that some people would be interested in. There are several ways that you could increase your number of followers/viewers and turn it into a little bit of money.
For more information on tiny home improvements in the Puget Sound area please contact us anytime or stop by and see us near Arlington.
We construct Custom Garages, Mini Cabins, Sheds, and Decks
More on Cabins