Maximize Space in Your Tiny Home Kitchen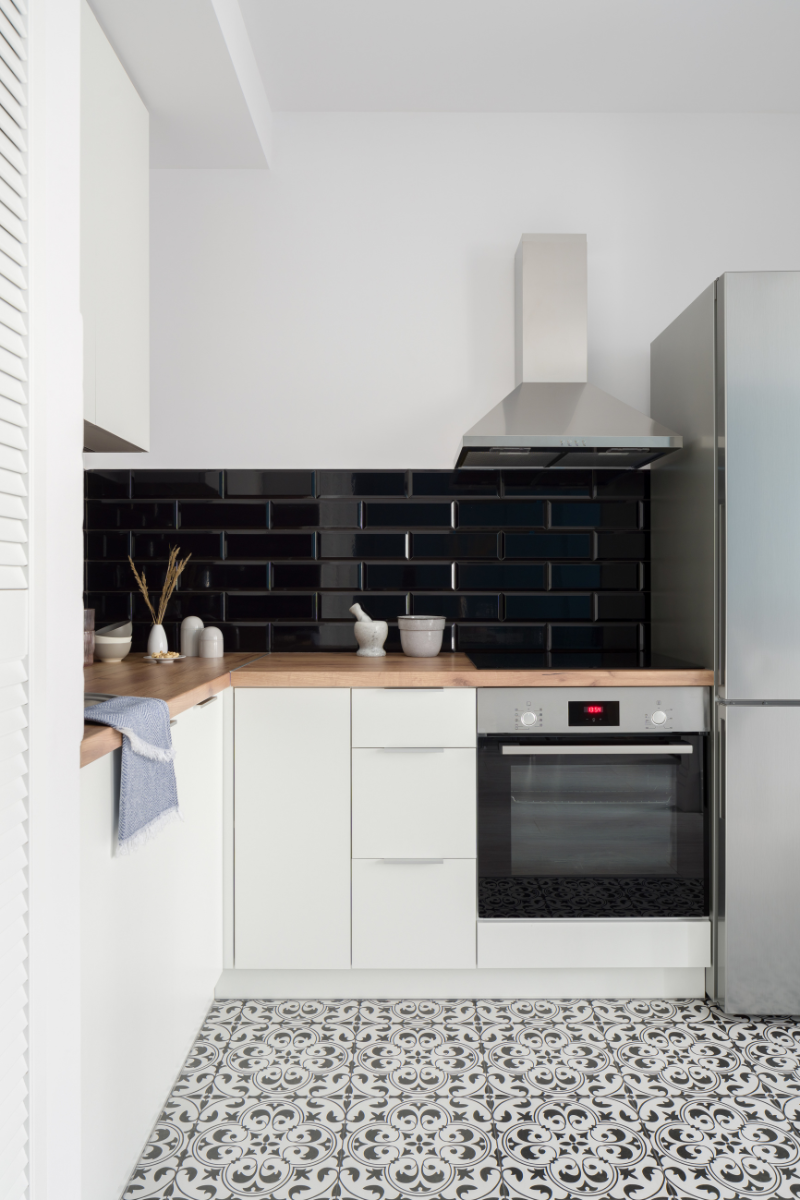 A tiny home may be small, but with the right strategy it can be as functional as a much larger space. One of the parts of a tiny home that requires the most strategic planning to work well is the kitchen.
To maximize your space and increase the functionality of your tiny home kitchen, consider these tips.
1. Add a multipurpose, moveable island
Your kitchen prep space is essential, and in a tiny home kitchen it can be hard to come by. Adding an island to your design may feel impossible depending on your layout because it would block the flow of traffic through the home. Consider adding a moveable island instead so that you can place it where it is most needed at any given time, instead.
Locking wheels can make the island easy to move, while being able to stabilize it when necessary. You can design it to tuck under another kitchen cabinet space and roll out when needed, or consider a multi-purpose function by letting it act as a separate piece of furniture when needed.
Another option to make the island worth the space it takes up is to choose a counter height table with stools, so that it can double as dining table and prep space.
2. Take full advantage of vertical space
While the footprint of your tiny home will be limited, don't forget to take full advantage of any vertical space by using wall and ceiling storage. There are many things you can organize without storing them in cabinets and drawers, including:
Hanging your broom from a wall hook
Mounting a magnetic strip on the backsplash area for knives, freeing up drawer or counter space
Suspending pots and pans from the ceiling
Storing cutting boards vertically instead of in a drawer
3. Use floating shelves
While floating shelves sometimes store less than traditional cabinets, they are visually lighter and can help keep the space from feeling crowded. Shelves are also a great way to create a multi-purpose design, doubling your storage as decorative space when you choose dishes and food storage containers that are as beautiful as they are practical.
Open shelving also eliminates the frustrating puzzle of how to make sure the cabinetry doors can open without bumping into each other in a small space.
4. Keep it bright
A small kitchen benefits greatly from good lighting. If the space feels dark and gloomy, it will appear much smaller than it is and be a place you don't want to spend any time. Instead, opt for a blend of both natural and artificial light sources so that you can customize the atmosphere of the kitchen depending on your mood.
Let in plenty of natural light and consider hanging indoor plants to add to the bright and cheerful atmosphere. Add a window or skylight to the space to funnel in as much sunshine as possible. You can also string LED strip lights under cabinets to add extra lighting without taking up any space.
5. Prioritize a functional layout for your tiny home
Even more than the size of the kitchen, the layout will determine how functional it feels. Make sure you can easily access the fridge, pantry, prep space, and cooktop in a way that makes sense to you. Consider whether you will be more likely to cook alone or if you'd like there to be distinct spaces for two people to cook at once. Remember, when you are designing a custom tiny home you get to decide what makes the most sense for your unique household and lifestyle.
Ready to design your tiny home? We would love to help you customize a building that will meet your unique plans, as well as your budget and preferences. Contact us any time to learn more.