Make a Tiny Home Work for Your Not-So-Tiny Family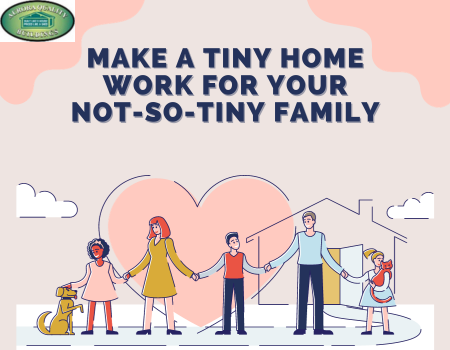 Tiny house living has risen into prominence in recent years as a brilliant way to embrace minimalism while making housing costs more affordable. If you are considering joining the many Americans who are living tiny, we can help. Our mini cabins can be customized to meet your needs, whatever your climate, budget, and personal preferences. Whether you plan to live in the tiny home full time and long term, or just want somewhere to live in temporarily while you build your dream home or save money for a time, we are here to help you design the home you need.
Many tiny homes are designed for a couple or a small family; so what happens if you want to live in a tiny home with a not-so-tiny household? We have some tips to make sure you can design a mini cabin that meets your family's needs, no matter the number of people who will call it home.
Reasons to Live Tiny with a Big Family
Tips for Tiny House Living with a Big Family
Flexibility is key to adapting to tiny living. Embrace the change and be open to adjusting your lifestyle to accommodate the smaller space. We have some tips to get your started as you strategize a plan that works for your unique family.
Declutter
Start by being ruthless about which belongings you really need to bring into the tiny home. This will likely depend on whether you are looking at your tiny home as a long term or short term living situation. If you plan to live in the tiny home only temporarily, you may decide to keep many of your belongings but leave them in a storage unit. This might include furniture you do not want to part with, expensive technology, home decor, or sentimental items.
If you are ready to part with most of your belongings or are planning to live in the tiny home long term, consider getting rid of as much as you can. Some of the tools people use to successfully pare down what they bring with them into a tiny home include:
Designing a "capsule wardrobe" for each member of the family. This means choosing limited pieces that can be mixed and matched, creating all the outfits you need without needing much storage space.
Opting for digital storage of anything that you do not need a hard copy of, like photos, paperwork, and even some children's art or schoolwork.
Limiting dishes and kitchen gadgets to just the essentials.
As you declutter, remember that removing things from your life allows you to add to it. Embrace the principles of minimalism. Focus on experiences and relationships rather than material possessions. This mindset shift can lead to a more fulfilling and less cluttered life.
Choose Multi-Functional Furniture
Multi-functional furniture is key to making tiny home living work for a big family. As you choose how to furnish your home, look for pieces that include storage or can serve more than one purpose. Custom built furniture and built-in storage may be the best way to do this.
Keep Privacy in Mind
Consider how your family will handle privacy in a tiny home. Will you need separate sleeping areas, or are shared sleeping spaces acceptable? Curtains, dividers, or loft designs can help create private zones when needed.
Adding a loft to your tiny home design is another great way to create privacy with an efficient use of space. Some families find that a loft is an ideal spot for a kids' sleeping area, while other couples prefer to keep the loft as their "master suite" of sorts.
Prioritize Outdoor Space
A tiny home can feel more spacious when it's complemented by an outdoor living area. A deck, patio, or well-organized outdoor space can provide additional room for activities, dining, and relaxation.
Keep this in mind as you choose where to place your tiny home. Having an outdoor space that is safe, comfortable, and hospitable will make it easier to entertain and let your kids play.
Maximize Every Square Foot
Our tiny homes are priced like a garden shed, but built like a house with quality craftsmanship that will last. Remember that you don't have to get everything set up exactly as it will be when you move in. Continuously explore creative storage solutions that fit your needs as your family grows and evolves. Utilize under-bed storage, wall-mounted hooks, shelves, and storage ottomans to keep belongings organized and out of the way. As you design, customize, and decorate your tiny home, consider these creative ways to save space and make the most of your investment.
Ready to learn more about designing your tiny home? Contact us any time.