Landscaping Around Your Tiny Home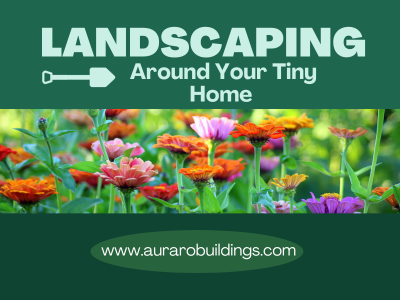 Landscaping around your tiny home is not just about enhancing its curb appeal but also maximizing your outdoor living space. A well-designed landscape can create a harmonious connection between your tiny home and the natural environment, providing aesthetic pleasure, functional use, and even environmental benefits.
Our mini cabins are the perfect place to start. They are built with high quality materials and can be customized and upgraded so that the design is exactly what you are looking for. Before launching into your landscaping and exterior plans, make sure you love the tiny home design. Contact us any time to get started.
Looking for inspiration and tips for landscaping around your tiny house, to make it feel more like home? This is a great place to start.
Plan with Purpose
Before you start planting or landscaping, establish clear goals for your outdoor space. Consider factors such as your lifestyle, climate, maintenance preferences, and the specific needs of your tiny home. Are you looking to create a tranquil retreat, a functional garden, or a space for entertaining? Knowing your objectives will guide your landscaping decisions, so sit down (with your partner, if applicable) and decide what your goals are for the outdoor space.
Embrace Native Plants
Landscaping with native plants is a smart idea no matter the size of your home. Native plants are well-suited to your local climate and soil conditions, making them a sustainable and low-maintenance choice for landscaping. They also provide essential habitat for local wildlife.
Research native plant species in your area and incorporate them into your landscaping to create a natural, cohesive look. If you aren't sure where to start, spend some time at a local nursery and talk with the experts there about what they recommend.
Choose a variety of plants that offer year-round interest. This can include evergreen trees or shrubs for structure, flowering perennials for seasonal color, and ornamental grasses for texture. Plan for different bloom times and foliage changes to keep your landscape visually appealing throughout the year.
Create a wildflower garden or meadow to attract pollinators like bees and butterflies while adding a splash of color to your landscape. Wildflower gardens are relatively low-maintenance and can be a beautiful addition to your outdoor space.
Create Defined Spaces
Even in a tiny home, you can create distinct outdoor areas with defined purposes. For example, a cozy seating area with outdoor furniture can serve as an extension of your living space. Pathways, borders, and hardscapes like patios or decks can help delineate these spaces while adding visual interest.
There's no reason your outdoor space has to be as tiny as your indoor space. Consider designing a defined entertaining area where you can host more friends that you comfortably could inside. This space might feature lots of chairs around a fire pit, an outdoor grill or kitchen area, and maybe a long picnic table with lights strung above.
Optimize Vertical Space
Tiny homes often have limited ground space, so make the most of vertical space. Install vertical gardens, trellises, or climbing plants on walls or fences to add greenery and privacy. Hanging planters and wall-mounted shelves can also create a lush atmosphere without taking up valuable floor space.
Incorporate Edible Landscaping
Consider edible landscaping by planting herbs, vegetables, or fruit trees around your tiny home. This not only provides fresh produce but also adds beauty and fragrance to your outdoor space. Raised beds, container gardens, or vertical gardening systems can be ideal for growing edibles in small spaces.
Choose Low-Maintenance and Sustainability
Minimize the time and effort required for landscaping maintenance by choosing low-maintenance materials. For example, opt for drought-tolerant plants, ground covers that require minimal mowing, and mulch or gravel to reduce the need for frequent weeding. You might also decide to use a drip system that will remove your responsibly to water each day.
Incorporate sustainable landscaping practices by using permeable pavers or gravel for walkways to reduce runoff, collecting rainwater for irrigation, and using organic mulch to improve soil health. Sustainable landscaping not only benefits the environment but can also lower your long-term maintenance costs.
Ready to learn more about ordering your dream tiny home? Contact us any time to learn more about our mini cabins.