Do I Need Insurance for My ADU?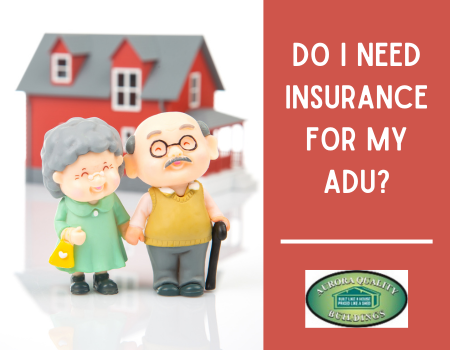 If you are considering adding a guest house, mother-in-law's quarter, or another type of ADU to your property, you may be wondering if you need to insure it. Keep reading to learn more about protecting your investment in an ADU.
An ADU can be a great way to create an additional stream of income through short or long term rentals, or it can be the perfect way to welcome aging parents or out of town guests. Whatever your reason for investing in a backyard building, protecting your investment is key.
In some scenarios, there is no legal requirement to insure your ADU, the way there is for your own home until it is paid off. However, in most cases it is a wise decision to protect yourself.
Your Current Homeowners Insurance Policy
Talk with your current homeowner's insurance agent to find out if and ADU can be added to the policy or would already be covered. Some policies cover all structures on the property, which would include the ADU.
A typical policy will cover 10% of your total dwelling coverage for other structures. For example, if your home is worth $500,000, the policy would cover $50,000 of damages on the ADU. Confirm this coverage with your agent, and keep the number in mind as you design your building. You may find that you want to add more coverage to have total peace of mind.
Landlord Insurance
If you plan to use your ADU as a short term vacation rental or list it for long term tenants, consider getting a landlord's insurance policy. Some policies will cover the ADU as a rental property if the tenants are family, but don't assume that yours will.
In general, a landlord's insurance policy will be a smart move in case your tenants damage the property or anything within in, including furniture and amenities. This insurance will also cover damage by fire, wind storms, water, or other peril.
Financed vs. Paid For
Depending in how you finance your ADU, your insurance needs may differ. You are not legally obligated to purchase either landlord's insurance or a homeowners' insurance policy for your ADU. If the building is financed, it will almost always be in your best interest to insure it. Lenders will typically require insurance as a condition of the loan to protect their investment, and it will be a good idea for you as well so that you don't end up with a payment on a building you no longer have.
Insurance is also a wise safeguard if you are using your home's equity to fund the ADU. Whether a HEL, HELOC, or cash-out refinance, you are putting your own house on the line to fund the investment so you want to make sure it is well protected. Even if you pay cash and own the ADU outright, insurance can protect your investment and allow you to enjoy that added peace of mind.
To learn more about investing in an ADU for your property, contact us any time. Our high quality mini cabins can be customized to perfectly suit your property and your plans for the building.