How to Host Guests in a Tiny Home
When moving into a tiny home not many people think about the possibility of hosting overnight guests there. There are some ways to make guest feels comfortable and at home in your tiny space should you so desire to host friends in your home.
Here are some great tips for hosting overnight guests in a tiny home: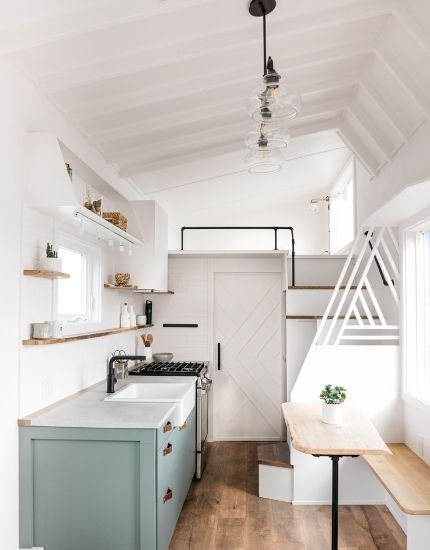 Small Scale Dual-Purpose Furniture
In your small living space bring in a piece of furniture that can do double duty as a place to sit and a place to sleep. It doesn't have to be a large heavy sleeper sofa, it can be a simple chair that pulls down to create a place to lay down. If you do not feel this bed is large enough for your guest, you can always offer to allow them to sleep in your bed while you sleep on the pull out bed for the short time that they are in your tiny home.
Only Invite the Closest of Friends and Family
Hosting an overnight guest in a tiny space will be much like having a sleepover when you were small as you will both be essentially staying in the same room together. For this reason, you probably don't want to offer up your tiny home for people you have recently met to come and stay, at least not while you are in the home as well.
Consider Lightweight Furniture and be Flexible in Moving it Around
Setting up sleeping space for your guests in a tiny home may require rearranging some of the furniture to create plenty of space to make them comfortable. If you are planning to host people in your tiny home often considering lightweight furnishings in the living area is a good idea. This includes dining chairs and the dining table, coffee table, and any other extra furniture you may need to move out of the way to layout the bed.
Curtains Make for Great Privacy "Walls"
To give your guest their own private area or room you could put up a curtain rod and curtain to divide the spaces between your sleeping area and theirs. If you have a loft that you sleep in and is somewhat separated from the main living area but still within sight of the living area, you could easily put a curtain up at the edge of the loft to give quick privacy between you and your guests. You can even get a tension rod that can hold a curtain temporarily and easily be stored away for times when it is not in use.
Get Some of Those Shrinking Vacuum Storage Bags for Linens
The large bags that look like those zipped-up sandwich bags everyone loves where the air can be vacuumed out and the bag can be flattened to a very small and easy to store size is a great and smart way to keep guest linens on hand in your tiny home. Since you will not be using these items daily you can stick them into the bag, suck all of the air out, shrink it to a very small size, and tuck it into a small space like behind the sofa or the back of a closet.
More Frequent Cleaning Keeps Things Comfortable for Everyone
When you have guests in your tiny space you may want to consider cleaning up things as you go right away to keep your small area comfortable for everyone hanging out there. This could mean cleaning as you cook to make sure the kitchen is tidy and there's comfortable space to eat or immediately putting away a game after it is played. In a small space, even the tiniest of messes can feel much bigger especially when there are more people enjoying the tiny space. How to Host Guests in a Tiny Home has been brought to you by Rick Stoddard with Aurora Buildings.
For more information on tiny homes in North Snohomish County please contact us anytime or come by and see us in the Smokey Point/ Arlington area.
More on Tiny Homes in the Pacific Northwest