Getting Your Mini Cabin Ready for the Season
From lakeside cabins to mountain hideaways, to beach bungalows, or a river retreat a cabin or mini-cabin is a great way to set up a home away from home for a vacation any time you want. Whether you have had a mini-vacation cabin for years or this is your first season in a vacation getaway all of your own, you will want to spend some time getting your cabin ready for a summer full of weekends or weeks at your new favorite spot.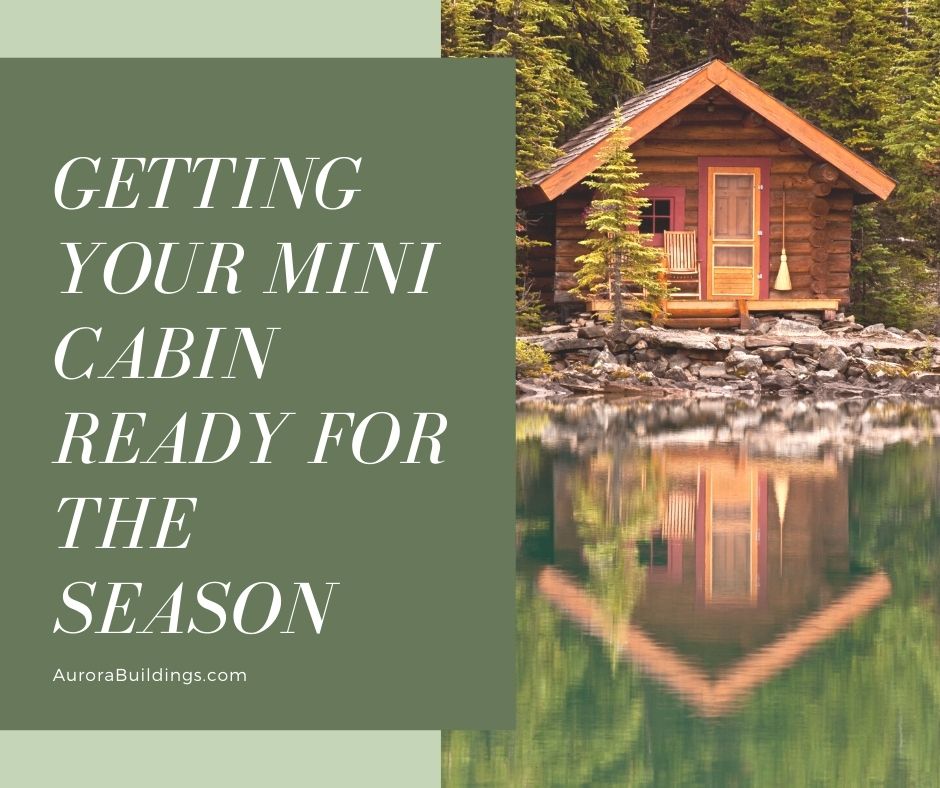 There will be some maintenance, maybe a few repairs, and a few organizational things you will want to accomplish to get your cabin ready for the summer season. This will allow you to fully relax and enjoy your summer doing all of the things you want to do as opposed to the things you need to do or have to do.
The more attention you give to maintenance before the busy vacation season starts, the less time you will have to take away from the busy vacation season taking care of things that need attention. Here are some things you can do to get your cabin vacation season ready.
Preparing for a Return to Your Cabin
Make sure that the insurance is up to date and includes insurance on all structures and equipment used at the cabin including boats, ATVs, etc.
If you are near a body of water and plan to fish make sure you have that fishing license
If the cabin has been sitting with all of the utilities off call and have them turned back on to make sure there is heat, air conditioning, lights, internet, phone service, etc.
Make sure you have all of the essentials in good supply that you will use up at the cabin all season long such as toilet paper, dinnerware, paper towels, soap, cleaning products, linens, and anything else the cabin may need.
Everyday Essentials You Will Want to Stock Your New Cabin With
Cleaning supplies: all-purpose spray, bathroom cleaners, disinfectant wipes, spot remover, laundry soap, etc.
Towels and linens
Paper products: toilet paper, paper towels, napkins, tissues, etc.
Toolkit: you will want a basic toolkit to take care of things when they arise or handle any repairs to recreational equipment
Regular vacuum: to keep the inside floor tidy
Shop Vacuum: to handle messes with big debris especially when cleaning up after a season of non-use
Mop and Broom: to keep hard surface floors clean
First Aid Kits: a couple of first aid kits are very handy for active vacationers
Toiletries: shampoo, soap, toothpaste, toothbrushes, hair brush, sunscreen, insect repellent, aloe vera, etc. so that you do not have to pack these items every time you head out
Spare keys: have a spare set made that you can keep in a secret hidden lock box somewhere in case you forget to bring the keys with you.
Set Aside a Weekend to Set Up and/or Perform Maintenance
The first weekend in your cabin for the season should be to get your cabin ready for more use. Here are some maintenance tasks you will want to perform when reopening your cabin for a new season of frequent use.
Check for structural damage as harsh weather and just age can cause damage. Make sure to inspect the condition of the roof, windows, doors, crawlspaces, water heater, etc.
Check for pests. An unoccupied cabin is a paradise for mice and other small woodland creatures make sure to check all of the places they love to hang out like cupboards, corners, under stairs, and more.
Change out smoke alarm batteries and carbon monoxide detector batteries. Replace any units that are needing full replacement.
Turn water on at the main valve or start the pump if the cabin runs on well water. Turn on all the water and inspect pipes for leaks or cracks.
Change out any filters and check lightbulbs
Now that the major maintenance is checked out you can get things set up and ready to be a comfortable place to hang out for the season. This includes cleaning, washing the sheets and linens and making the beds. Making sure the bathrooms are stocked and set up. Cleaning dishes and getting the kitchen ready etc.
If you are looking for a mini-cabin to set up in a great location for vacations that you can take any time you want we have some great mini cabins. For more information on our mini cabins please come and visit us any time in North Snohomish County or contact us any time.
We construct Custom Garages, Mini Cabins, Sheds, and Decks
More on Cabins