8 Things to Think About Before Moving into a Tiny Home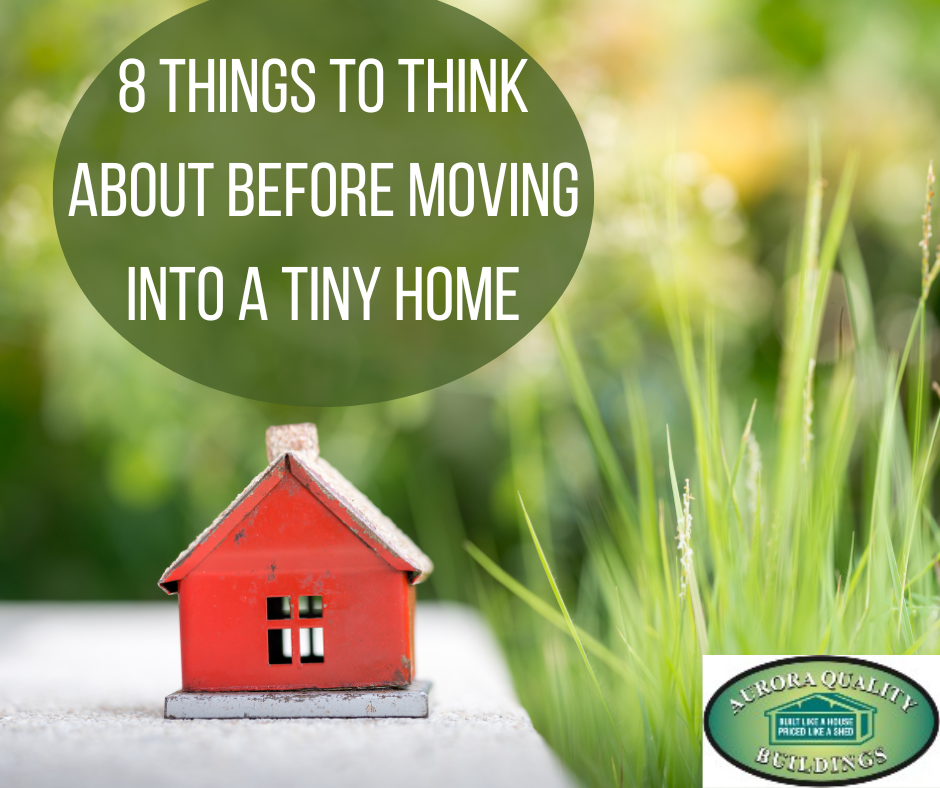 Living in a tiny home can be a rewarding and fulfilling lifestyle for some people, but it's not without its unique challenges. Whether it's your short term or long term plan, a tiny home can help you reach your goals and recreate your lifestyle. Before you decide to embrace tiny living, think about these 8 things to make sure you are ready to design the tiny home that will be the right fit.
What to Consider When Living in a Tiny Home
1. Minimalism
Living in a tiny home requires a commitment to minimalism. If you enjoy having a lot of possessions, collections, or large furniture items, the transition to a tiny home may be challenging. Even with carefully planned storage in your tiny home, you will need to embrace a simple lifestyle to avoid feeling crowded.
2. Space Needs
Assess your space needs realistically. Consider your daily activities, hobbies, and the number of people who will live in the tiny home. Ensure that the limited space will meet your basic needs and provide a comfortable living environment.
If you are concerned about the space feeling too small, contact us to talk more about how we can maximize your design by adding a loft to your tiny home or increasing the size in other ways.
3. Financing
Tiny homes are often far more cost-effective than traditional houses, but there are still initial costs to consider, such as the price of the tiny home itself, land or rental fees, and utility hookups. If you are concerned about paying cash for your tiny home, check out our convenient financing options.
4. Environmental Impact
Tiny homes generally have a smaller environmental footprint than larger houses. If eco-friendliness is important to you, tiny living might be a good fit.
We can even talk about ways to maximize this feature of tiny home living, like choosing insulation made from non-toxic and renewable resources or adding solar panels to the home.
5. Mobility and Location
Some tiny homes are set on trailers or wheels, offering mobility and the ability to change locations. Consider if you are comfortable with the idea of moving your home occasionally or if you prefer a fixed location.
Setting your tiny home on a poured foundation is going to offer the best ROI if it is part of a larger property, but a mobile tiny home will provide flexibility. Take the time to weight the pros of cons.
6. Zoning and Legal Considerations
Before making your plans, find out if there are any zoning concerns or legal considerations like HOA policies and city regulations. Research local zoning laws and regulations to ensure that living in a tiny home is permitted in your desired location. Some areas have specific restrictions on tiny houses.
7. Personal Space and Privacy
Living in close quarters with others may require adjusting to less personal space and more communal living. Consider how this might impact your relationships and daily routines. There are ways you can design your tiny home to uniquely solve any issues you anticipate.
8. Future Plans
Consider your long-term plans and how tiny living fits into your future goals. Will your living situation accommodate changes in family size, career aspirations, or other life events?
Many of our clients live in a tiny home temporarily, with the goal of building their dream home on the property. If this is your plan, consider how you will use the tiny home in the future so you an incorporate those goals into the original design.
Ready to start designing the tiny home that will help you reach your goals? Our mini cabins can be customized and upgraded, and we have financing available to make your dreams a reality. Contact us any time to learn more.