5 Ways to Create an Outdoor Oasis (For Your Tiny Home)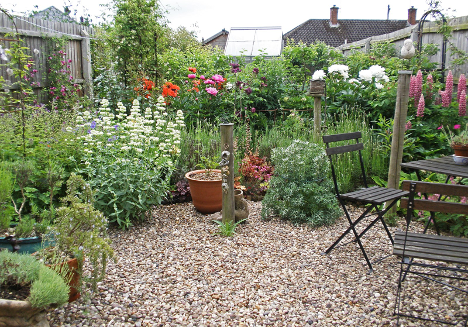 Just because you live in a tiny home doesn't mean you have to sacrifice all your outdoor space, in fact you can have your own outdoor oasis. With careful planning, you can still have the privacy, beauty, and functionality you desire. Here are some ways to create an outdoor oasis for your tiny home.
1. Build a Fence
Fences define a space. They show the boundaries of a property, provide privacy, and keep your family safe.
Most tiny homes have short fences to make the yard feel open and avoid blocking the view. However, you may want a privacy fence if you need a break from nosy neighbors or to prevent children or pets from wandering away. The perfect fence can make your yard feel complete, providing the perfect amount of seclusion or openness.
The most popular fence types for tiny homes are picket, rail, chain-link, and wooden privacy fences. The color you choose may affect your perception of the space. For example, light colors tend to make a space look more open, while dark colors make spaces look small and cozy. Customize your fence with hanging decorations, lights, and flower pots to add visual interest.
2. Add Greenery
When you picture an oasis, you may think of palm trees swaying in the desert. However, your oasis is unique, so use the plants you love. From a pristine lawn to a rock garden dotted with succulents, a garden will improve your curb appeal and mood.
Practical plants will serve double duty in your yard. A lawn could be a playground for children and pets, a lounge area, or a purely ornamental addition. Edible gardens add color and allow you to be self-sufficient. You can also use plants for privacy –– tall plants are a great alternative to fencing if you want to feel less walled in.
Since many tiny homes have small yards, you need to be creative with space. Vertical and container gardens are excellent solutions for those with a small area to work with. Potted plants work for yards of all sizes, including porches. If your yard is too cramped, consider moving a few plants indoors.
3. Make the Most of Your Deck
Some tiny homes have decks or porches. Depending on your home's location, this may be your only option for outdoor customization. Make that space usable with chairs, small tables, and a grill. An outdoor heater will allow you to enjoy your porch longer, even as the air becomes crisp and the evenings grow chilly.
A deck lets you observe the world, but sometimes you don't want the world to observe you. Make your deck more private with decorative panels, outdoor curtains, or carefully placed plants.
4. Bring the Indoors Outdoors
Tiny home living sometimes means sacrificing rooms you used to have. However, you can extend indoor spaces outside. You may not have a separate living or dining room in the house, but you can make up for it with a nice patio setup. Outdoor furniture is especially helpful for tiny homes on rented land where you may not be able to landscape the way you want.
Look for sofas, ottomans, and coffee tables designed for the outdoors. With cozy details like pillows, blankets, and rugs, you may not even notice you're outside. This space will be great for solitary relaxation or hosting friends.
Outdoor dining areas are a classic for houses of all sizes, but they're especially nice for tiny homes. Set up a barbecue, grill, table, and chairs, and you'll be ready to enjoy dinner al fresco. A camping stove can serve double duty because it won't take up much space and you can easily take it on trips.
5. Hang Lights
You don't need to abandon your outdoor escape just because it's dark out. A porch light would do the trick, but don't be afraid to incorporate lights throughout your yard so you can enjoy your oasis at night. A well-lit yard will also improve the view out your window when you're inside and increase security.
Path lights will make navigating your yard easy, especially after late-night activities. Fairy lights create a whimsical, cozy atmosphere in your yard and look just as charming during the day as at night. You also can change them with the seasons to fit holidays. To avoid using all the outdoor outlets, opt for solar lighting.
As you can see, it's completely possible to create a pleasant outdoor space for a tiny home. If you need a tiny home built in North Snohomish County, contact us for more information.
By Lauren Bryant 
Lauren Bryant is a freelance writer based out of Eugene, Oregon, with a B.A. in English and a minor in comics and cartoon studies. She is excitedly awaiting the day when she can grow her own edible garden.