5 Reasons a Playhouse is Beneficial for Your Child(ren)
Playhouses are a great way to encourage your kids to get a little more time outside. Now especially it is more important than ever to find creative and fun ways to enjoy your own yard. Here are some great reasons why outdoor play and playhouses are so beneficial.  
Help with Bone and Muscle Development
An outdoor playhouse will have your little one(s) wanting to get some more physical activity in. When you first put the playhouse in your yard you may find them begging to go outside and play. All forms of physical activity are beneficial and substantial to aiding their bone and muscle development as they grow. We all know healthy bones and muscles contribute to better overall health including a stronger immune system. 
A Chance for More Vitamin D 
Getting outside gives kids a chance to soak up some extra vitamin D from the sun which is the best way to get a daily dose in. Vitamin D is another important player in bone development and it also helps us to absorb calcium. A serious lack of vitamin D intake can lead to delayed development and muscle weakness.  
Helps Promote Better Coordination 
Though we hate seeing our kids stumble as they are just learning to walk it is good for them to fall and get back up again so they can learn better how certain body parts function and develop better coordination. Even as they grow and become excellent walkers and even runners constant physical play, especially things like climbing ladders and sliding down a slide, helps them to use their arms, legs, and even eyes altogether.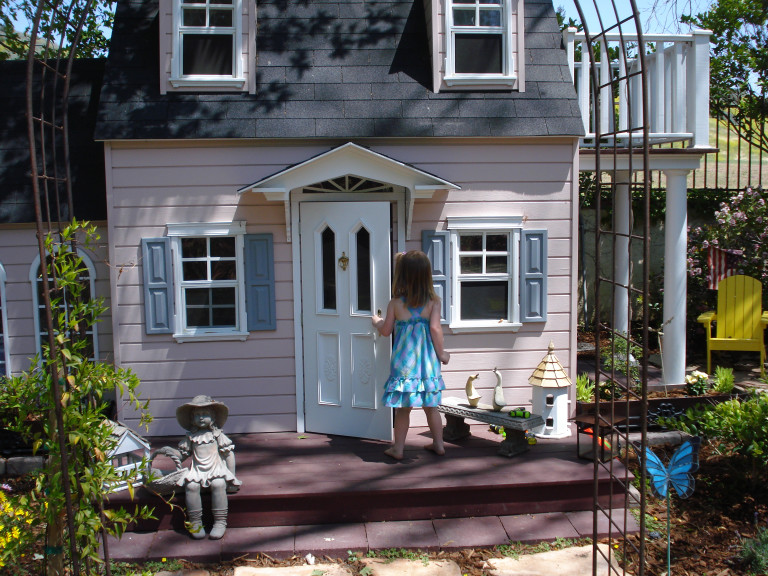 Start Your Build
Gives a Better Night Sleep 
Kids who get plenty of physical activity, like having fun all day in their playhouse, sleep deeper. A good deep night of sleep allows the cells in the body to repair properly and be ready for a new day of play.  
Allows Opportunities for Independent Play and Responsibility 
A playhouse encourages a child to get out and make a space all their own. Your child will play by themselves and maybe even begin to solve minor issues on their own while they are out in their own space. They can be given a set of rules as parameters and it will be the beginning of learning responsibility and good decision making.  
Many of us can remember having a playhouse, playing in a friend's playhouse, or wishing we had a playhouse. Setting up a custom playhouse in your yard is a great way to promote health, independence, and create lifelong memories for your kids.  
Come check out our 10×12 Playhouse. All of our buildings are custom made with the highest quality solid wood and finish materials. Have more questions? Contact us about our custom playhouses at any time!  
More on Sheds and Outbuildings: