4 Tiny Home Permit and Code Myths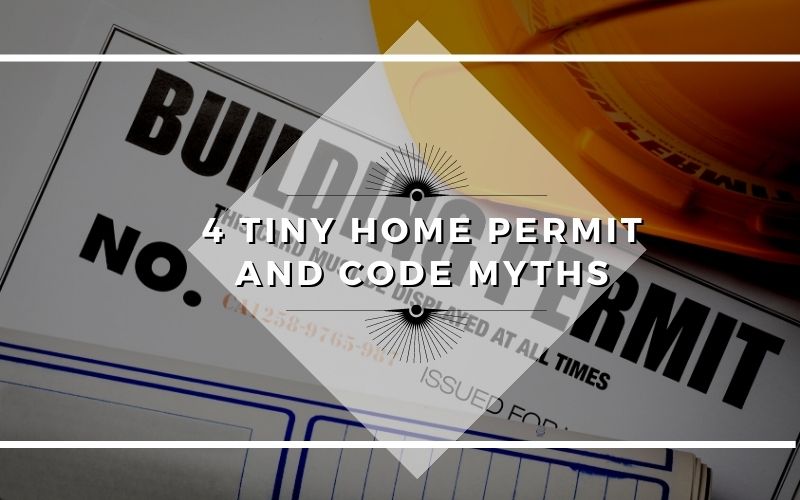 Coding questions come up often when it comes to building a tiny home, and they should, because they are very important. Not building a tiny home within codes and permit laws could cause a person to be subject to fines, an order for teardown, or the need to defend yourself in court. There are more regulations when it comes to tiny homes than most people realize and knowing all of the laws around tiny homes can quickly get confusing for tiny homeowners.
Due to the complicating and seemingly contradicting laws, there are some misconceptions out there about building codes for tiny homes. Here are the top 5 myths about tiny home building codes.
Myth: Tiny Homes Don't Need a Permit if They are Under a Certain Square Footage
This myth is somewhat true, but there are some exceptions. Generally, if a structure is under certain square footage on your property it does not require a permit to build it. When it comes to an actual tiny home though there is a catch. If you plan to use the structure as any form of permanent dwelling, a house, there will be permit requirements. Any structure used for livable space will need a permit.
Myth: Tiny Dwelling Compliance is Not Required because the Home is Mobile and Therefore Considered an RV
There are some truths to this myth, and there are also some ways in which a tiny homeowner can find themselves needing a permit. If the tiny home is built by a certified RV or mobile home manufacturer it does not need a permit. If you plan to build this mobile tiny home on your own, you will need to obtain a manufacturer certification to wave the need for a permit. In addition to needing to be built by a certified mobile home or RV builder, there are laws as to where you can park a mobile tiny home.
Myth: If There are Issues Just Claim You are Camping
While you can get around issues by claiming you are just camping in the tiny home and not living in it, there are very specific rules on how long a person can camp for. This limit varies depending upon the area, but in most cases, it is somewhere between 2-30 days in one particular spot if camping is even allowed in that spot. If you run into issues more than once the city could have grounds to prove you are not camping, but dwelling in the unit.
Myth: I Have the Freedom to Make My Own Decisions and Can't Be Stopped if I Want to Build a Tiny House
In some cities, there may be a blind eye turned for tiny homes that are not creating a huge buzz or major issues for others. There is no telling what a city inspector will deem an important issue to fight though. The inspector holds all of the power when it comes to the decision on whether to enforce code on your tiny home. They can choose to ignore your tiny home, hit you with a fine in addition to requiring you to obtain permits, or even condemn it and order it pulled down. There is little ground for a homeowner to fight back on issues when a home is not permitted.
The best rule of thumb when it comes to tiny homes is to make sure you know all of the local laws that pertain to them. Building permits do not seem like an important thing in a city where officials have other things to focus their attention on, but there are many situations where not being permitted can come back to be a negative impact.
This can include a neighbor turning you in, a zealous or bored inspector checking things out, or trying to sell the home or property with a tiny home on it. Tiny homes are great dwellings that you invest a lot of money into. It is always worth the trouble to make sure they are properly permitted.
For more information on our custom sheds and mini cabins that make great tiny homes please contact us any time.
We construct Custom Garages, Mini Cabins, Sheds, and Decks