Tips For Enhancing The Security Of Your Custom Garage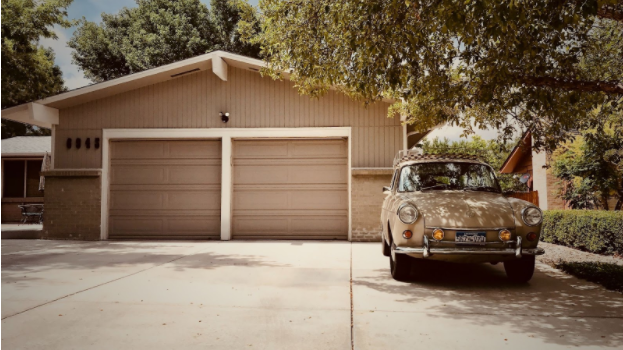 In the US, vehicle theft occurs in 246 of every 100,000 households. It's easy to think that your garage keeps your vehicle safe, but extra precautions must be made to ensure that thieves can't access the vehicles stored in your garage.
So, how can you enhance the security of your garage? Read on for the top tips on enhancing the security of your custom garage. These security installations could improve the safety of your vehicle and potentially lower your insurance costs, too.
If you don't have a garage for storing your car to keep it safe from car theft and strong weather, consider getting a custom built garage built to match the style of your home and provide extra storage space for your household and vehicles.
Photo by John Paulsen on Unsplash
Top Security Tips For Your Custom Built Garage
Building a custom garage can improve the value of your home and protect your vehicle from weather damage. However, to truly protect your vehicle from theft and improve the functionality of your garage, you will need to consider investing in these garage installations:
An Alarm System
When it comes to choosing an alarm system for your custom garage, you have a few options:
Alarm only alarms – these alarms work by triggering a sound alarm that can be deactivated using a pin code or fob remote.
Dialler alarms – these alarms usually call a phone number when they are triggered, meaning there does not have to be a high level of noise.
Smart alarms – smart alarms work like dialler alarms, sending a notification to your smartphone via your smart alarm app. Your intelligent alarm system can be integrated with other devices in your security system, like IP security cameras.
An alarm system allows you to be constantly aware of any security breaches in your garage and usually won't cost you more than $250, so there's no need to break the bank.
Smart Garage Door Opener
Smart garage door openers can provide you with logs of when your garage door has been opened and will allow you to remotely close and lock your garage door. By storing your garage door remote virtually on your mobile device, you will significantly reduce the risk of losing it, as we tend to watch our mobile phones more carefully than small devices. 
Smart garage door unlocking also allows you to turn the lights on remotely, so you won't be fumbling in the dark for the light switch, which may cause you to trip over things on the floor of your garage.
Motion-Detecting Floodlights
Motion detecting floodlights serve two main purposes:
Deterring thieves – your motion-detecting floodlights can ward off intruders and thieves by flashing them with sudden light and making them feel instantly exposed. You will also be able to look outside and check what caused the lights to go off, giving you the chance to call the police if you see an intruder.
Providing economically friendly outdoor lighting – your outdoor lights will turn on and allow you safe passage down your driveway but won't be on all the time. This will save you on adding unnecessary costs to your lighting bill.
Motion detecting floodlights make a good investment because they serve both of these functions. A custom garage will create extra room on your driveway, and your floodlights will help you make use of this space after dark.
Security Cameras
Security cameras make an excellent addition to your garage security system. You can integrate your smart garage door locks and alarms to create a streamlined security system, with all your security information stored in one place. 
Security cameras placed on display outside your garage will ward off intruders. If a crime occurs on your property, the feed from your video cameras could serve as critical evidence to help the police gain a lead.
A Scissor Gate 
If they can't get your vehicle out of your garage, thieves won't be able to steal it. If you have a very expensive vehicle or need extra security, consider installing a single fixed scissor gate, you will be making it more difficult for unauthorized users to access your garage space. 
Look for a scissor gate that is made from corrosion-resistant galvanized steel so that it won't rust over time and become damaged. Most scissor gates come with universal mounting on the face or in the casing for easy installation. 
Being More Careful
Your actions can help you to enhance the security of your custom garage. You can prevent the occurrence of a break-in in your home or garage by taking these precautions:
Never leave your garage door key or remote out in the open
Always lock the door between your house and the garage
Closing your garage door every night
Never leave your car keys in your garage
Choosing a garage door without windows if you do not have a security gate
Keep your security code to yourself
Never leave your garage door open when you're not there
Summary
Cars are usually people's second most valuable asset, their house being first. Investing in a custom garage is always imperative and could improve the cost of insurance, depending on your insurance provider.
If you invest in these security tools, you will be providing safety for the assets stored in your garage. If there is an additional door to your house in your garage, you will also be making your home security more secure.