Key Measurements for Just the Right Size Garage
The Right Size Garage – When it comes to building a custom garage one of the most frequently asked questions that come up is, "How big will the new garage be?" or " How big do I need to plan for the garage to be?"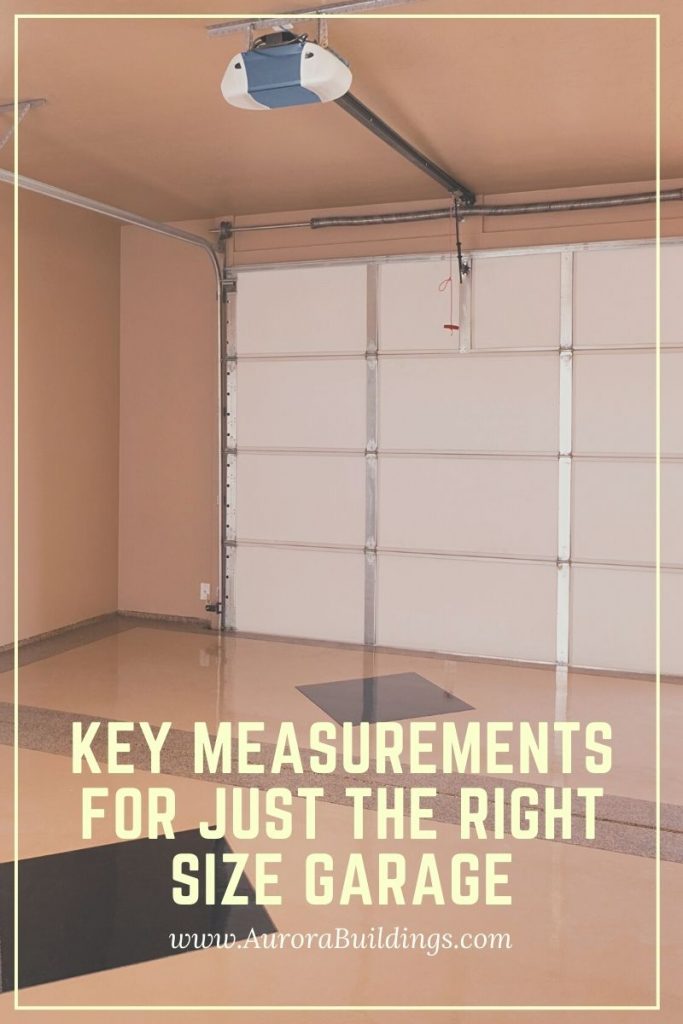 It is important to account and prepare for the room you will need to make your new garage possible. Here are some key measurements to consider when building a garage.
Standard Garage Dimensions for the Right Size Garage
Doors
Width: A single car garage door is standard at 8 feet wide. It is possible to get a 9-foot door and this comes in handy for larger cars and making it easier to pull into the garage without scraping your car on the frame. Double car garage doors can be as narrow as 14-feet and are commonly between 15 and 16 feet.
Height: A standard garage door height is 7 feet, but there are 8-foot heights available as well. Custom heights can be made for additional costs.
Garage Walls
Single-Car
A single car garage is rarely built anymore but still found on older homes and some multi-family structures like townhomes. On average a single car garage is about 9 or 10 feet wide and 18 to 20 feet deep.
Two-Car
Most two-car garages have a single 16-foot wide door to allow just enough room for two cars to drive inside. They are generally 20 feet wide and 20 feet deep. If other things need to go into the garage, however, adjustments will need to be made as this is really only enough space for the two cars.
Three-Car
A three-car garage requires at least two garage doors, one double car door and one single door. Most builder-grade three-car garages you see on new homes are built this way. The smallest dimensions for a three-car garage should be 30 feet wide and 20 feet deep. At least 10 feet by 20 feet should be allowed for each vehicle. Of course, more space would be needed to fit anything beside the three cars into the garage.
Considering the Size of YOUR Vehicle
Though these standard measurements account for an average size car, they do not always comfortably fit every car especially trucks and large SUVs like the ones with third rows and extra cargo space. It is a great idea to take into account your specific car and making enough room for it to comfortably fit in the garage. It is best to have at least 36 inches of space between each car to allow for car doors to open and close without hitting anything.
Other Space Considerations
Storage
If you are hoping to put some storage in your garage you will want to add or account for more space than the standard car measurements, unless of course, you plan to use a car bay for stuff instead of a car, which is not uncommon. If you are hoping to put a pre-built cabinet system in as storage most come in the same dimensions as your kitchen cabinets which are about 24 inches deep. You will also want to allow a bit of space to open and close doors and walk around when the car is also in the garage.
You can go with shelving as well, just make sure to allow some extra room for walking around the shelves and being able to place items on them.
Stairs
Most houses require at least a few stairs leading up to the door that gives direct access into the house. When installing steps think 7-11. Each stair needs to be 7 inches high (riser height) and at least 11 inches deep to allow for safe footing. So if you have two stairs this will mean you need at least 22 inches of extra space just for the steps alone.
Driveway
Most driveways are just a straight line of pavement from the street up to the garage door, but not all garage or home configurations allow for that. Some garage doors are not facing the front of a property and as such more space needs to be considered for the driveway. If you have a door that faces to the side you will need to account for enough space to turn the car. The turning diameter for a standard car is between 40 and 50 feet. You will need about 25 feet to comfortably back up and then being your turn to move forward.
For help and advice in how much space you will need for your specific garage please contact us any time. We build custom garages in Snohomish County and surrounding areas. You can give us a call, email us, or come visit us in Marysville.
There are many great reasons to build a new garage on your home or on your property. For more information on our custom-built garages please check out our page on garages, contact us any time, or come and visit us in Marysville. We construct Custom Garages, Mini Cabins, Sheds, and Decks
More on Garages: