How a Custom Garage Can Help Save Your Driveway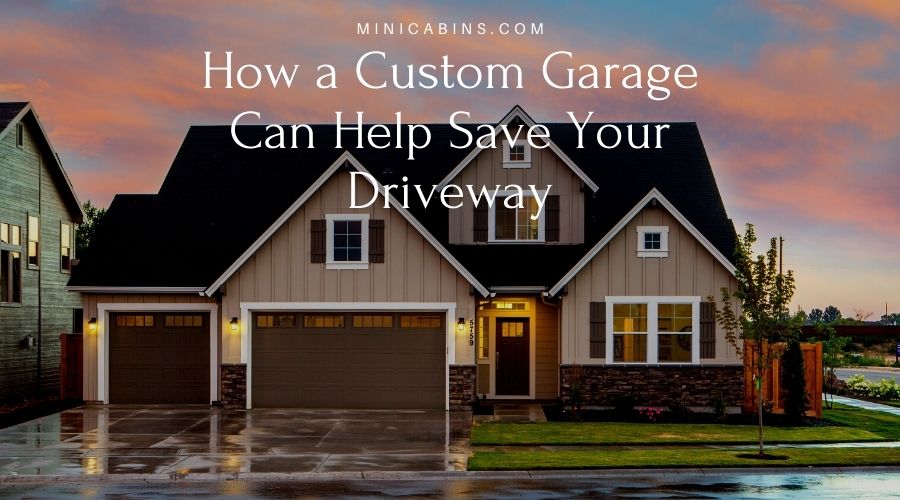 How a Custom Garage Can Help Save Your Driveway – Statistics have shown that the average American family owns 2 vehicles per household and has a standard two-car garage in their home. This would mean and there's plenty of space at your home to house your cars, or so you would think by just reading the previous sentence. However, statistics also show that several American families use their home's garage space to store items and in many instances, there's no more room for a car. In some cases, garages are converted into extra living space or workout space displacing the cars that were intended to live in there.
It's not uncommon for the average family to be parking at least one vehicle in the driveway full-time. Some families may even be storing a boat or a camper in their driveway. But what some people may not realize is that they are wearing down not only the vehicle sitting outside, but the driveway underneath it on which it sits.
Here are some ways in which a custom garage can help save your driveway
Garages can protect your driveway surface
The driveway on your property does a lot of heavy work every day. After all, you drive heavy vehicles across it every single day and sometimes several times a day. If you have children, it can provide a play space for bouncing balls and drawing sidewalk art or even riding bikes. When installed properly, it also channels rain water away from the home and other outbuildings that it may be connected to.
Over time, you will need to spend money to maintain the driveway by repairing some cracks or even sealing and coating it depending upon the weather where you live or your preference for how your driveway looks. But if you regularly leave a vehicle on top of your driveway you could actually be subjecting the surface to much more damage than just everyday use.
Automotive fluids
It is not uncommon for a vehicle to leak fluids from time to time including motor oil transmission fluid, coolant etc. Unfortunately, our motor fluids create unsightly stains in the driveway and beyond that they can also cause damage you may not be aware of as they penetrate into the pores of the driveway. Over time these substances can weaken the integrity of your driveway.
Soggy surface
In places where it rains quite a bit, like here on the western side of Washington, leaving a car on a wet driveway can trap moisture into the driveway underneath the tires not allowing the pavement to evenly dry. Moisture held in a driveway for long periods of time will cause the surface of the driveway to deteriorate more quickly.
Though keeping a vehicle in your driveway for a short period of time is not a huge deal, continually parking one, or several vehicles in the same position on a regular basis day after day will break down those areas of your driveway much more quickly than you would have anticipated or like. Considering a custom-built garage or adding on a garage bay to be able to get your car into your garage would actually be much more cost-effective than having to refinish or completely replace your driveway.
For more information on custom-built garages in Puget Sound and surrounding areas please contact us any time.
More on Garages: