Tips for Giving Your Deck a Spring Cleaning Pressure Wash
Every deck is going to require some sort of maintenance at various times during the year. Decks should be pressure washed periodically and spring is a great time to do so if your deck is looking a little tired. It is not uncommon for wood decks to come into contact with a little surface mold or mildew or discoloration as the wood reacts with the moisture in the environment.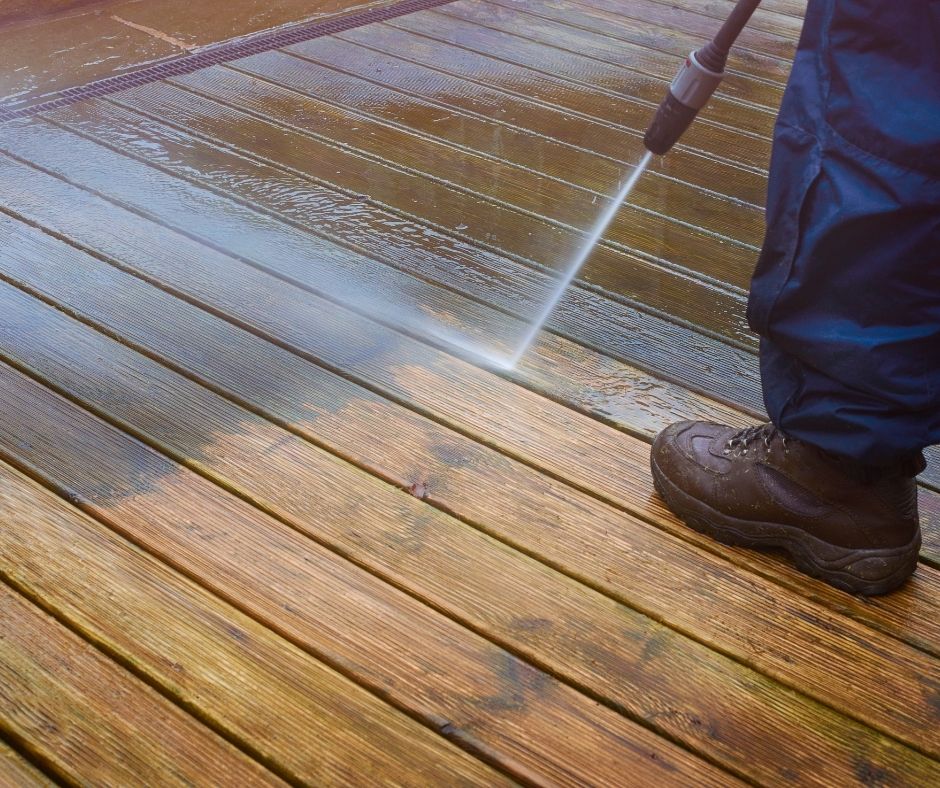 Some Tips for Using a Gas or Electric Powered Pressure Washer to Spring Clean Your Deck
You want to make sure that you are aware of what you need to do to use a pressure washer for cleaning your deck and to get it looking like new again. A pressure washer produces a hard blast of water that can cause damage to your boards when done improperly. This can result in warped boards or splintering of the wood.
You want to prep your deck by first sweeping it free of all debris and then using a thin tool like a putty knife to remove anything caught between the boards. Make sure you have your pressure washer set to medium power or lower to get the surface debris. You don't want to set it too high as this is a big culprit for causing damage to the wood.
Begin in one area like at the edge of your house and go with the grain or length of the wood boards. Sweep the deck with the pressurized water blast overlapping as you go along in rows. Keep the nozzle of the pressure washer several feet above the wood surface and maintain the same height to prevent any gouging in the wood surface. This will take a little bit longer and requires more strokes but will prevent irreparable damage.
This is a job that you all want to take your time and make sure you are not missing any spots. You want to be extremely detailed in hitting every single area of the deck. Make sure not to forget any railings or stairwells and to get every nook and crevice of those areas.
Spring Cleaning Alternative to Using a Pressure Washer
If you are nervous about using a pressure washer to give your deck a good spring-cleaning makeover you could also use a deck cleaning product. There are several cleaning products found at home-improvement stores to help you give your deck a good cleanup. Most wood deck cleaners contain a bleaching agent that helps loosen debris and will lighten the color of the wood.
You can apply the cleaner using a synthetic bristle brush that is attached to a long handle. For smaller areas like corners of the railing, you can grab a smaller handheld brush. You want to make sure that you are wearing clothing you do not mind getting stained and that protects your skin. This can include long pants, close-toed shoes, rubber gloves, eye protection, and a long sleeve shirt. Make sure to carefully read all of the use instructions on the product and follow them exactly.
Most deck cleaning products require that you apply the cleaner to a wet deck and let it sit for at least 15 minutes to let it do its work and minimize the amount of scrubbing you need to do. After the suggested time for sitting is up, take your brush to it and then hose it off with your everyday garden house. After cleaning you should let the deck dry for at least 24 hours before putting anything back and using the deck again.
It is a good idea to give your deck a good cleanup at least once every year for decks that are used quite often and every other year for decks that are used less often. In some cases, if your deck has not been cleaned in quite some time you may want to consider re-staining or repainting.
For more information on custom-built decks in Snohomish County and Puget Sound, please contact us anytime or stop by and see us in person.
Stop By or Schedule a Consulation
More Advice on Decks