Budgeting for a Custom Deck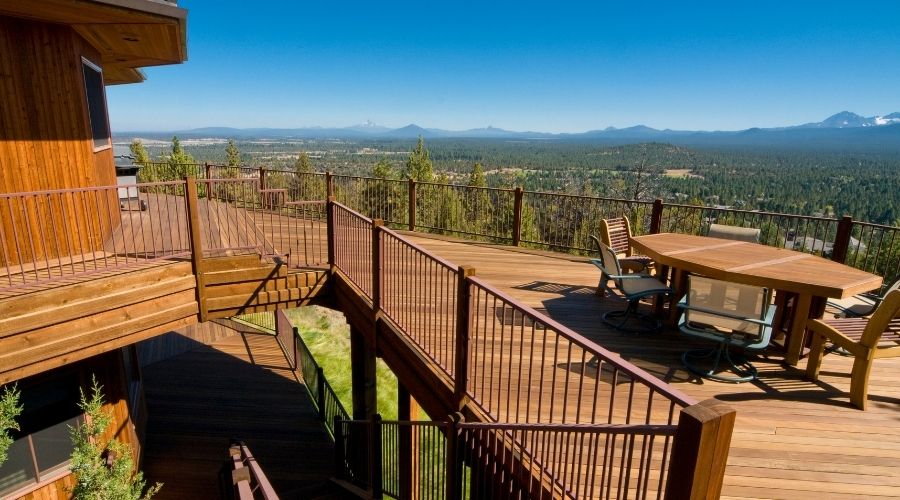 Budgeting for a Custom Deck – There are several attributes of building a custom deck that will determine the final overall cost of that deck. Of course, the larger and more elaborate your deck is, the more it's going to cost. Right now, the cost of lumber is still higher than it was just a few years ago, which will also make a significant impact.
Is Building a Custom Deck Worth the Inflated Costs Right Now?
A Deck will extend your usable living space in your home, even if this new "room" doesn't come with a roof and walls. Some say that building a deck can add a significant amount of value to your home, especially as more homeowners have become aware of just how valuable it is to have your own private outdoor space to enjoy whenever and however you please.
Research from last year found that exterior home improvement projects brought the greatest return on investment. The average cost of a brand-new wood deck across the country was around $17,000, but it brought in a return on investment of 66%. The numbers did show that the increase in material cost brought in a lower return on investment, but there is still a significant amount of value-added to a home that has outdoor living spaces.
Budgeting for a Custom Deck
Unchanging Factors That Play a Role in Price
Though there are some varied aspects of a custom deck that determine price, there are also some that cannot be tweaked. Items like regional deciding factors specific to your location and climate as well as an environment that alter costs. For example, in northern climates, concrete footings have to be dug deeper and hit a frost line, which is the depth at which the ground freezes.
Other factors that are beyond your control also include local building and zoning laws as well as the exterior architecture of your home and how you are able to connect your deck to your home.
Controllable Factors to Consider with Price
To get the best estimate of what a custom deck will cost, it is a good idea to describe in as much detail as possible what you dream your deck will look like and how you hope to use it. This will help your deck builder to determine the cost of exactly what you want and maybe even suggest something very similar that would work better or be more budget-friendly and allow you to get the same intended use for less money.
Factors that can be tweaked and changed to help keep you on the budget for a custom deck build include the layout and size, including multiple levels, the type of material, the size and number of staircases, demolishing an old deck or patio to make way for the new one, and any fancy design features.
For example, a curved or rounded deck will cost more money than a deck with simple straight lines because it requires special skill and more time to accomplish. Ornate railings with an unusual design will cost more than the standard railing. Adding benches and pergolas is going to cost more, these are items you could save some money on now and install later on.
Additional Costs You Want to Consider
There are some items that a deck will need that are extra costs, some homeowners do not realize. When hiring someone to build your deck you want to make sure what services will be included in the cost estimate. You want to know if the build will include stain or paint for example as this is something that will need to be done to the wood to protect it.
For more information on building a custom deck in Snohomish County and surrounding areas please contact us or come visit us any time.
Stop By or Schedule a Consulation
More Advice on Decks